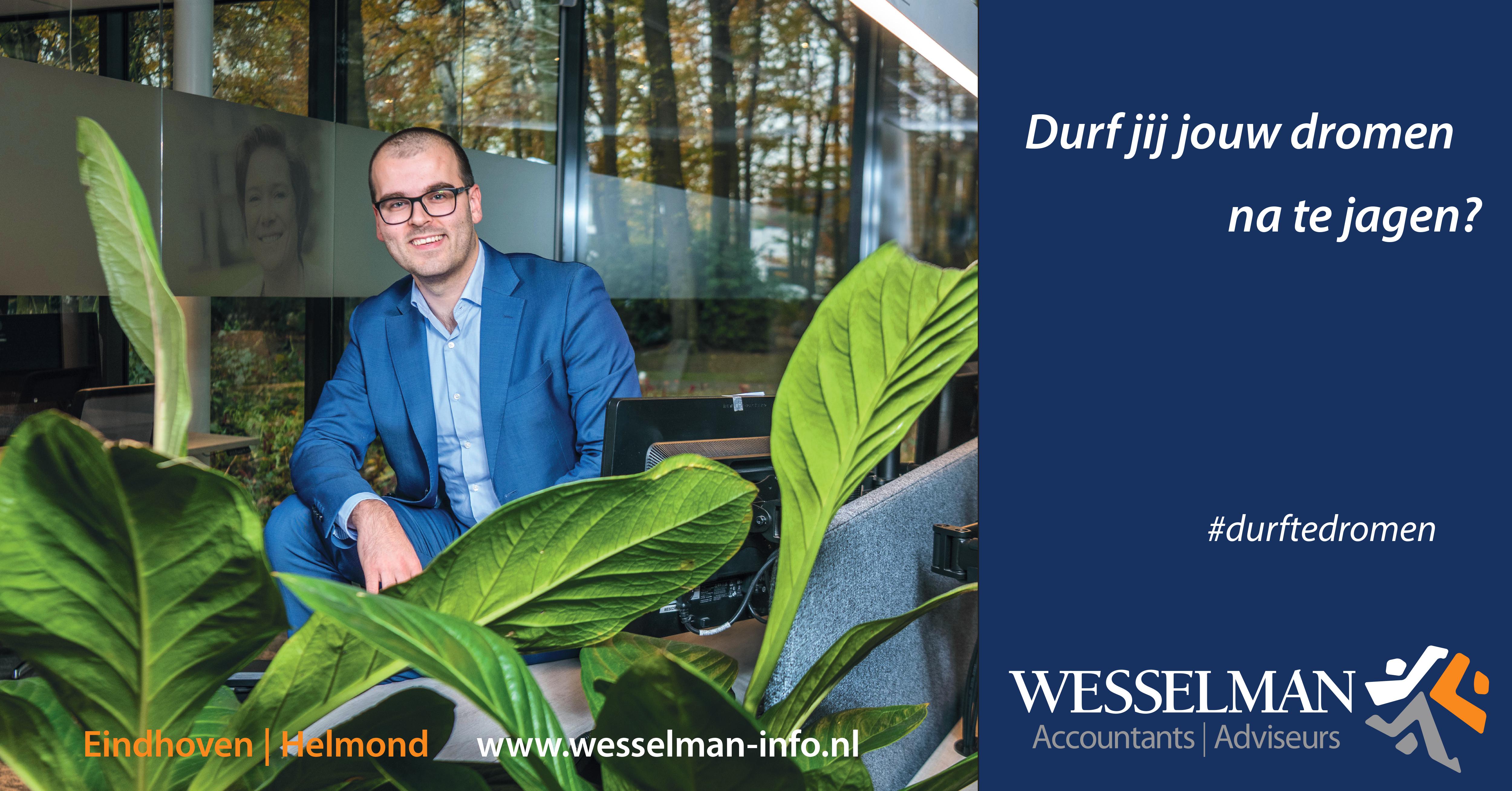 For the Dutch version, click here
Who are you and what is your (study) background?
My name is Dennis Vaas, 28 years old and born and raised in Weert. I've been living there for 5 years together with my girlfriend. In my spare time I like to do spinning and in spring I like to go cycling with friends. I am also active in the carnaval life and I am treasurer of a carnaval event where we organize a pub crawl along 11 pubs in Weert. Here I am responsible for the finances, sponsorship and ticket sales. I am also a member of a carnaval association with which we build a wagon for the carnaval parade. Carnaval is deeply embedded in my life.
I have been working for Wesselman for 4 years now. I ended up here via school, as I first did my graduation internship at Wesselman. It was nice to get to know an accountancy firm in an approachable way through my internship. I liked it so much that I stayed on as an Assistant Accountant. I can now call myself Senior Assistant Accountant. I am now responsible for managing and reviewing and I am the link between the controllers and the assistants. This makes the job of Senior Assistant Accountant fun and challenging. I also like the fact that the variety of clients is so great and the complexity is increasing all the time. My clients range from trade organizations to construction companies. In addition, I really enjoy guiding and coaching the junior assistants in their development. 
Before I started studying Accountancy, I did the Pabo, but this turned out not to be my passion. After visiting a number of open days, I decided to study Accountancy. I first studied Accountancy at the Fontys University of Applied Sciences. Then I followed the pre-master, master and post-master Accountancy at Nyenrode Business University. I completed the post-master's at the end of 2020, which means that the theoretical part of the RA course is over. I have now started the practical training, the first year of which is almost over. 
What makes Wesselman Accountants different?
When I came to Wesselman I immediately sensed the good atmosphere. It is accessible and informal, and there is a real eye for the individual; they look at the person behind the employee. At Wesselman you are not just a number. I noticed that during the job interview because of the questions they ask, and as soon as you start you get a warm welcome.
Wesselman Accountants is a full-service organisation with an accountancy and advisory practice. You can think of an auditing and compiling practice, outsourcing, payroll, tax consultants, tax return practice and a legal department. We have a lot of specialisms and knowledge in house! 
"In addition, one of our core values is 'energetic' and you can see that in the activities."
At Wesselman, I experience a real family culture. It is a small to medium-sized office, which means that you immediately have a lot of freedom in your work. As soon as you start, you are given responsibilities and you do not have to follow the beaten path, which I like. There is room for your personal interests. For instance, I really enjoy subsidy inspections and within Wesselman I am now one of the WMO inspection specialists. At Wesselman, you can focus on what you have an affinity with, which means that in addition to annual audits, you can also be involved in subsidy audits, due diligence investigations, or the IT aspect of the audit.  
The atmosphere is also very friendly and I would actually say relaxed among colleagues. There is little hierarchy. You can make jokes with a drawing accountant just as well as with an assistant and the partners get coffee for the trainees and vice versa. 
What does a day at Wesselman look like?
It's cliché but true, every day is different. For example, yesterday I went to a client and there I discussed the sales and purchasing processes with the client and then I worked it out. Today I started with a pre-audit of another customer. In a pre-audit, you're going to discuss the controls and developments beforehand and you're going to see how you're going to frame the audit. 
Then, I worked out a risk analysis and the personnel process for the same client of yesterday. I also visit the client regularly. In the spring (pre-corona) that is almost every day. Since corona I have been working more from home. I like that because it is very nice for your work-life balance. Half of my work is at home or at the office and the other half is at the client's. I have clients all over the Netherlands and I really enjoy being everywhere. Every organization is different and different types of people work everywhere. And I get to take a look behind the scenes everywhere. I get great pleasure from customers' enthusiasm when I show genuine interest in their organization. This ensures a good and professional customer relationship. 
How can you grow personally and professionally within Wesselman?
At Wesselman I get the chance to obtain my RA title and I hope to eventually develop myself into an audit manager. I can walk my own path in this, and I like that. There is also a real focus on soft skills. For example, I followed a Personal Development program where my personal development, cooperation with colleagues and working in the organization were really central. In addition to my work as an Accountant, I dream of one day teaching at a college. My interest in teaching remains, I didn't start at the Pabo once for nothing. 
What activities are there outside of work and what is the activity of the year for you?
The activity of the year will be our ski trip to Kaprun. We are going to Austria with all our colleagues. We are going to Austria for a long weekend with all of our colleagues, in honor of our 40th anniversary. How cool is that? I am really looking forward to it! In addition, one of our core values is 'energetic' and you can see that in the activities. For example, we have an annual sports activity (for example, a soccer or tennis tournament) and we also participate in the Triathlon Brabant. Furthermore, we have an annual BBQ with all colleagues, and before Corona there were regular drinks at the office or in town. With the audit practice we had a Summer Course to kick off the audit season. In addition to substantive matters, we also had dinner together and played a fun city game, for example. 
What would you like to give to students?
Choose the path that feels best and don't look at others. You don't always have to go for the beaten path, pursue your own ambitions.