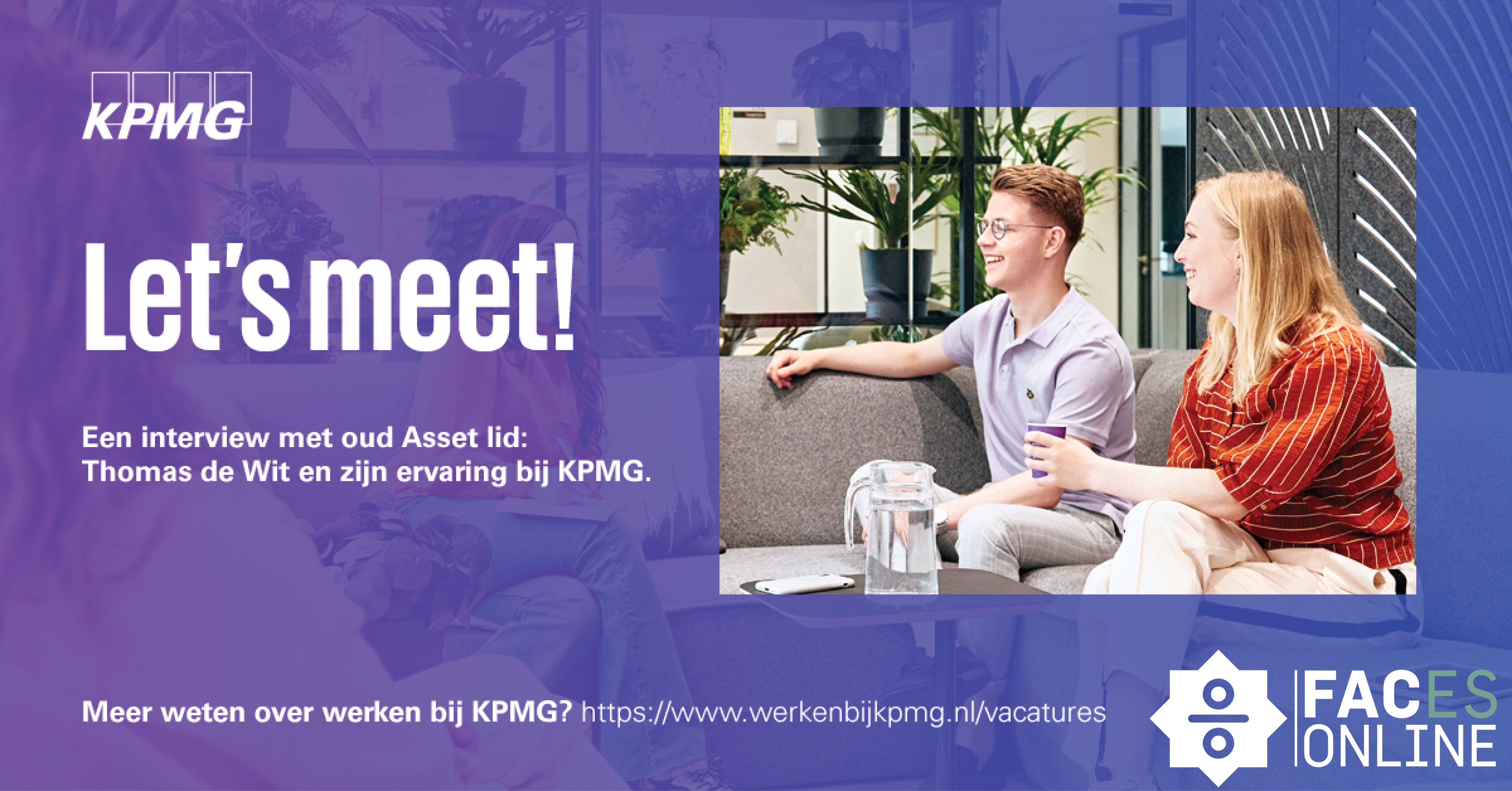 For the Dutch version, click here.
Who are you and what do you do at KPMG?
My name is Thomas de Wit and I have been with KPMG for 2.5 years now. I am 25 years old and live in Oisterwijk. After my studies I started at KPMG as a trainee in audit where I am now a senior and participate in the Digital Auditor Track, where we are trained to innovate and automate the audit more. Besides work, I enjoy playing tennis, running, mountain biking and meeting up with friends for drinks or dinner together.
What do you keep yourself busy with on a daily basis?
We always start our day with a daily. Here we discuss with each other how we feel, what we achieved the day before and what we want to do today. This way your team always knows what you are doing, if you need help and how you are doing. Furthermore, the daily schedule is very varied and I don't really have a 'standard day'. My daily activities can include meetings with the client to discuss and understand certain documentation, meetings with colleagues to discuss and explain certain procedures, or independently performing the recording of your work for the file.
How did you come into contact with KPMG and what is the reason you chose KPMG?
During an event from the Economic Business Weeks, together with recruiters and employees from different Big-4 firms, I went golfing in Tilburg followed by a barbecue. At the time I signed up for this event, I didn't really know at all what I wanted to do for a Master's or what I wanted to do afterwards. Numbers was always something I liked, so accountancy or finance would be a logical next step. Once at the event I got talking to several people, including the recruiter and two trainees from KPMG. I remember this last conversation best because I had the best click with these people. They invited me to join them for one day. I would then get a laptop and go to the client with a team to get a taste of what a day as an employee at KPMG would be like. No sooner said than done, so two weeks later I was allowed to join them. This worked out really well and I was then invited for a walk-in internship where I had a little longer to find out if working at KPMG would be for me. After I did this, I knew for sure that I wanted to continue in accountancy and I went on to do the Master Accountancy in Tilburg. At the end of this Master I returned to KPMG for a thesis internship after which I started working as a trainee. Like many of us, the feeling at KPMG was very good and I felt seen and heard here, so I knew that KPMG would be a good employer for me.
What makes working at KPMG fun for you?
A few aspects of working at KPMG stand out for me. First of all, the colleagues. The fact that you work with young people who are in the same stage of life as yourself gives a very nice dynamic to the work. Outside of work there is also plenty to do together with your colleagues where you can think of get-togethers, summer barbecues, the annual ski trip, playing indoor soccer in the KPMG team, running and participating in various running competitions. Secondly, I think serving many different clients where you have a lot of client contact and also physically go to the client is a very cool aspect. Personally, my clients include a small municipal institution, a large energy company, a sensor developer and a vacation rental company. This diversity ensures that my work weeks do not always look the same where you also always take into account different risks. Finally, I really like the fact that you develop strongly. In a very short time, you grow enormously in your knowledge and responsibilities, both professionally and personally. For me, these elements make working at KPMG fun and challenging.
What would you like to give students?
Especially go to recruitment events, companies, and try to speak to people from as many offices as possible. The work we do is pretty much the same everywhere since we all have to comply with the same regulations. Therefore, getting a taste of the atmosphere at the offices and seeing if you click with people is the most important thing. As you can read, I have done this myself and it has ensured that I am in a good position. Take your time for this. If you want to know more about my experiences at KPMG, you can always send me a message on LinkedIn!
If you have any other questions about the (internship) opportunities at KPMG, please contact our recruiter Ariane Kuijt via LinkedIn, email (kuijt.ariane@kpmg.nl) or phone (+31204239495).