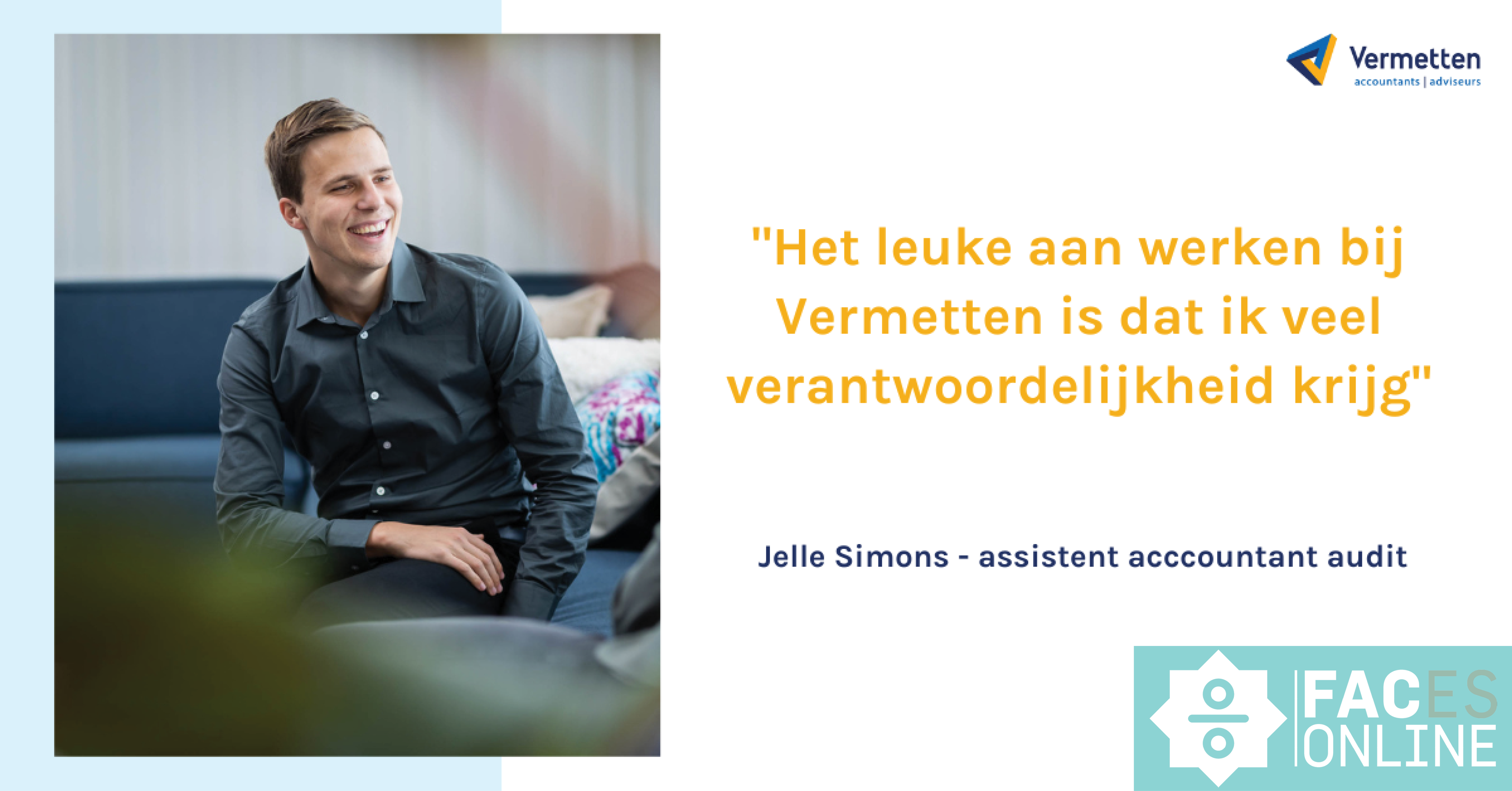 For the Dutch version, click here.
Who are you and how did you end up at Vermetten?
I am Jelle Simons, 24 years old. After completing my Bachelor Business Administration (Business Administration) in Rotterdam at the Erasmus University, I started the Master Accountancy in Tilburg. At the moment I am still finishing my thesis and I am a member of Asset Accounting & Finance. During my master I wanted to orient myself in the field of work to make a next step. At that time I was working in financial administration at an accounting firm. To make a good choice I participated in a cooking workshop at the Piushaven in Tilburg. Here I came into contact with several accounting firms, including Vermetten. During this workshop Vermetten really appealed to me and this proved to be the case the other way around when I was approached by Vermetten themselves after this workshop. I have enjoyed working at Vermetten in the Audit department since October 2022.
How do you like working at Vermetten?
So far, I really like the work. In the Audit department, we work in teams on a project basis. I like this way of working because you do it together. We work with young teams in the Audit department, so I work with a lot of people my age, which is very nice. Furthermore, Vermetten is very committed to employees and you can see this in different points within the organization and their policies. For example, there are flexible working hours so you can plan your working hours however it suits you best. Furthermore, I was coached very well from the start as I had no experience in the auditing practice. Thanks to the Vermetten academy, an internal development platform that allows you to follow training and courses throughout the year in line with your personal development needs, I can continue to develop within Vermetten. I will continue to do so after my studies. Finally, the thing I like most about my job is that I get a lot of responsibility in my work, by having conversations with customers myself. The fact that we spend a lot of time with customers makes for a lot of variety. This way you are not in the same office with the same people every day, but you get to know a lot of new people and organizations, and you find yourself in a different environment every time.
What moment at Vermetten will always stay with you?
The moment at Vermetten that I will always remember is participating in a soccer tournament for accounting firms. This was very enjoyable and a fun way to get to know different people within Vermetten, also from other departments. This was on a Friday evening in Breda on PCP's soccer field. We ended up finishing second out of 15 teams. After the tournament we had a drink, because that is also part of the fun.
What tip do you give students from your experience?
Make sure you orient yourself well in many different ways. For example, knowing in time what direction you want to go in within Accountancy or Finance. Say you want to go into accountancy, talk to people from the accounting and audit departments to get an idea of what you want. There are often opportunities to visit both departments to get an idea. This way you can also get a taste of the atmosphere in each office. Would you like to work at a small or large or medium-sized office? What suits you better? Think about this carefully and really take the time within your studies to orient yourself in these areas. Make time for this. After all, this is the first step in your career and a place where you are going to spend many hours. I know that in the coming period at Vermetten we are setting up our office on Wednesdays as a work café for thesis guidance. This is a good way to get your bearings and be able to see an organization from the inside already.