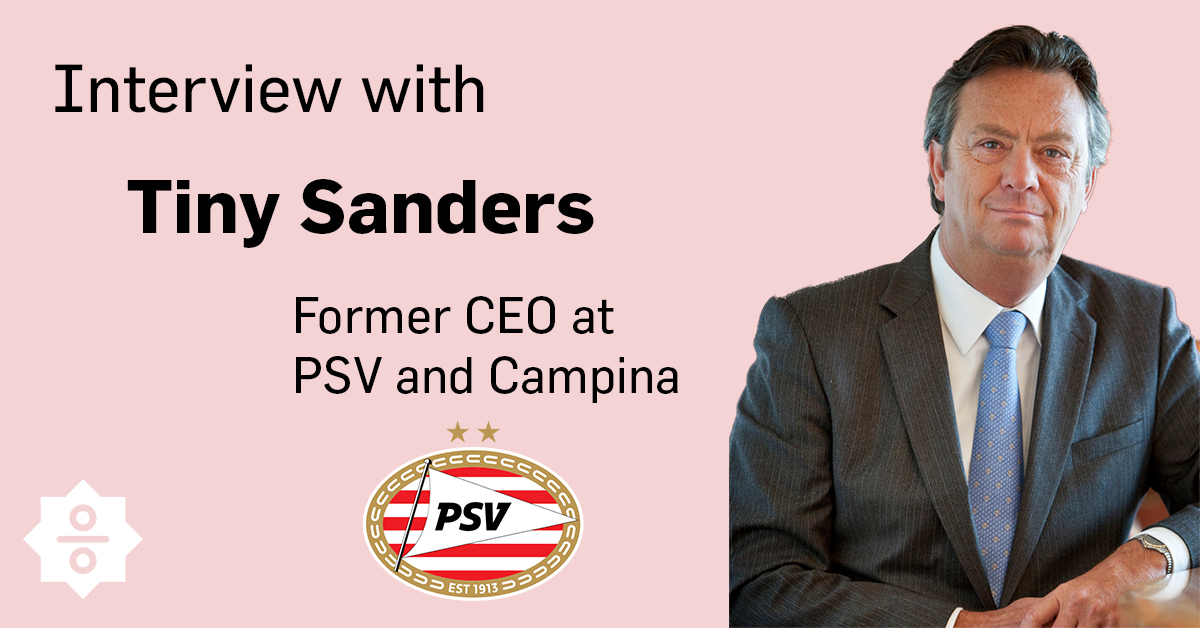 For the Dutch version, click here
With his experience as the CFO of HCS, CEO at Campina and Managing Director at PSV, Tiny Sanders has built up an enormously broad portfolio. In this interview, Tiny Sanders talks about his career, setbacks and the wonderful moments that he has experienced over the years. 
You studied Economics at Tilburg University. What have you learned from this study that you have benefited from for the rest of your career? 
In my student days, there was more room to do other things besides studying. You had time to develop yourself and to try out new things. The general development that you can gain through doing things next to your study helped me a lot during the rest of my career. The other way of teaching that teachers had at Tilburg University has also brought me a lot of wisdom. Because of its background and philosophy, Tilburg University had just that much more of an eye for the world behind business than other universities.
After your studies you started working at Mars. What was your starting position and how did it go from there onwards?
Mars had an assessment centre at that time, where you were locked up in a hotel for two days and did all kinds of assignments in groups. This resulted in a management traineeship for me. Once completed, I started working in the finance department, which turned out to be a very interesting part  in doing business. After all, financial insight is necessary in almost all (international) projects. In six years, I  came into a position in the board of directors. Some time later, the owners of Mars suggested that I could go to the branch in Australia. I have experienced this greatly together with my wife and three children. If you want to make a career in the corporate world, a foreign experience is necessary in my opinion. However, make sure that you do this early enough so that it still fits in with your private life.
After Mars you ended up at Campina via a detour, where you became CEO. How did this happen?
After my time in Australia, I joined HCS as CFO, a company that focused mainly on computers and software. These three years formed one big learning experience with a lot of setbacks. This company seemed to be very nice from the outside, but on the inside it turned out to be a pool of misery. This included fraudsters and accounting scandals.
As a next step, I went to Campina, and I couldn't have wished for better. After working for 8 years in the finance department and Campina International, I was offered the job as CEO of Campina, which I then did with passion for 8 years. Campina grew into a company that was equivalent to Friesland, which soon resulted in a merger. At that time, two CEOs were not allowed to take over the management of the new company that was formed and it was agreed in advance that both CEOs would have to make room after the merger.
Subsequently, you became managing director of PSV. How was your transition from the corporate world to professional football experienced?
After this experience, I had seen enough of the corporate world. It could not have gotten any better after eight years as CEO of Campina. Three years later, PSV asked me whether I wanted to start working as the general director of the club. This world was totally new to me and it was a special place, where I used to be in the stadium as a kid, so I almost immediately said yes to this opportunity. Slightly impulsive, but the club is in your heart and as general director you can really contribute something and make a difference.
"The most important part of this was to regain confidence after a loss of about 20 million euros and a negative equity."
In your time at PSV, you have resurrected the club on a financial level, especially because of the often-discussed land deal. How did your financial policy get the club back on track?
The club turned out to be financially completely grounded upon arrival up to a point where salaries could no longer be paid. We started to deal with this and after six months to a year, the recovery plan was built. The most important part of this was to regain confidence after a loss of about 20 million euros and a negative equity. The only solution for this was additional income, about 80 million to be precise. This was achieved by the land deal with the municipality of Eindhoven, which yielded around 46 million. Though, also almost 40 million have been gained by restructuring loans and entering new, large sponsorship contracts.
If you compare these two worlds (the corporate and football world), what are the biggest differences and similarities?
The processes within the team are a bit similar, and very dependent on the people within your team. Whether a team functions is crucial, and this is the case for both companies and professional football. Another similarity is that, at both corporations and football clubs, there must always be a keen eye on the structural financial health of the organisation.
The biggest difference between these two worlds lies in the emotion and the media. With a corporation, you will be told 2 weeks in advance that you are going to be interviewed, where you will then be allowed to go through everything with the press manager beforehand. At PSV there are 3 journalists at the club all day long, who keep approaching everyone until they find a leak somewhere. So, everything is seen through a magnifying glass at the football club compared to the corporate world.
Furthermore, the football world is completely different from the corporate world. I wanted to deal with organisations such as UEFA and FIFA as little as possible. This is also one of the reasons why I indicated from the start that I wanted to work for 4 years, and not a single day longer. This was not because of PSV, but because of the world around it. Unfortunately, you often see that people are there only for themselves and not for the interests they should be there for, so integrity within the football industry is often lacking.
What are the most important life lessons you have learned from your career?
If you have a chance to start a business, take it. If it fails, you get plenty of chances for another job, but a business of your own will teach you a lot. If you start your own business, make sure you organise good and reliable advice and supervision and involve them in what you do.
A second lesson is that doing business is mainly about trust and respect. This is certainly true if you conduct  this with other countries, for example in Asia. Here you have to pay a lot of attention to respecting the other person. We Europeans quickly think in terms of power. When you make a joint venture, you always want to have 51%, so that you have the so-called 'power'. In that case, in my opinion, you are thinking completely wrong. The one with 49% will always think: "Where is he trying to get me?", while, when you agree with a 50% – 50% stake, you are equal partners and the focus is on working together.
"The place where you grow most as an individual is where the chance of failure is greater than success."
Do you have any tips that can help current students stand out from the rest?
We are all busy showing our successes, but you learn the most from your disappointments. Try things that fall outside of your comfort zone. This can be abroad, but it can also be by entering a completely new market. People quickly tend to choose for a safe, familiar environment. However, if you can apply your specialty in a different environment, you can stand out, excel and learn a lot yourself. The place where you grow most as an individual is where the chance of failure is greater than success.