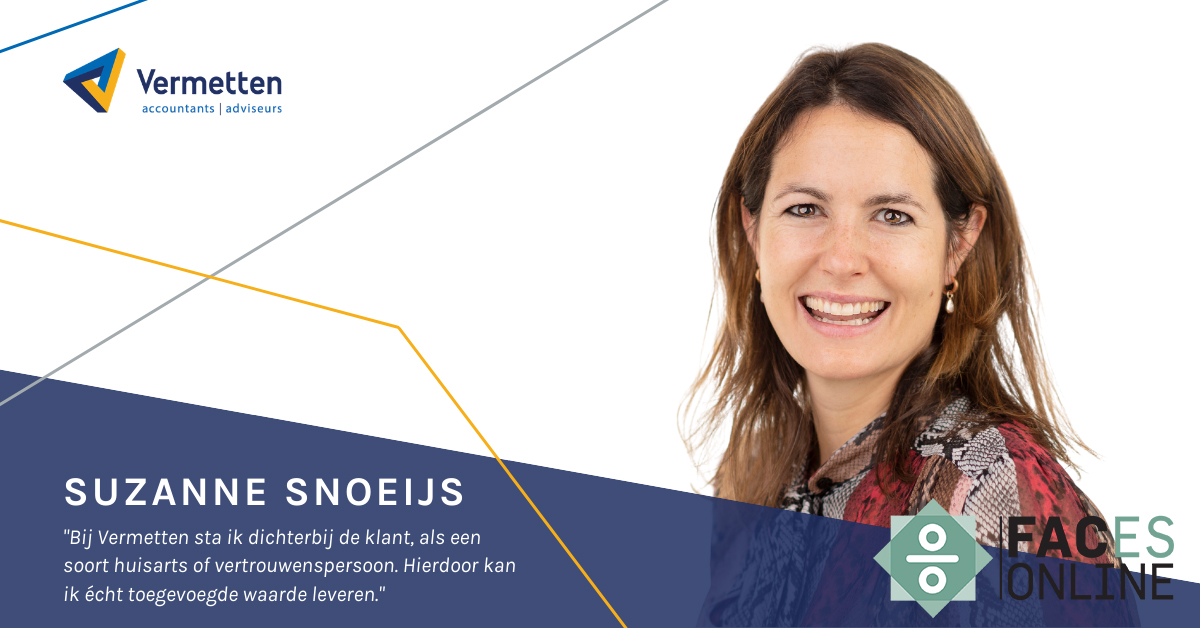 For the Dutch version, click here
Suzanne Snoeijs was a member of FST about 15 years ago, now better known as Asset | Accounting & Finance, where she organized the StudyTour to Boston at the time. She studied Master Accountancy at Tilburg University and is now employed at Vermetten. 
Can you tell us something more about yourself? 
I used to study at Tilburg University, where I did the bachelor Business Economics and then the master Accountancy. I was a member of FST at the time and organized the StudyTour to Boston. I have always enjoyed my time with FST and have good memories of it. After my master's I started working at PwC. I started at the Breda office, where I worked for four years. Then I switched to the Rotterdam office, where I worked for another four years. I was able to gain more experience in Rotterdam because that's where the larger clients were and where the IT Audit department was located. After eight years I made the switch to a smaller office. I first worked at Witlox for a year and then switched to Vermetten, where I have been working for about six years now and will soon become a partner.  
What is the difference between a large and small office? 
At Vermetten I am closer to the client. In Accountancy, it is difficult to provide added value. If the relationship with your client is good, you can deliver this much better and you also get more satisfaction from it. You are more like a doctor than a confidant of the client, which means you get completely different questions than just about the audit of the annual accounts. Sometimes people just want to talk about something and tell their story. Clients then give me a call, even though I can't always help them. At the larger offices, you are forced into a kind of checklist culture. I like to audit based on common sense because I think you can then do a much better quality audit. 
Why did you start at PwC and, if you could do it over, would you make the same choice? 
I wanted to learn a lot, so a Big 4 firm was my preference. I had been to Barcelona with PwC. The people at PwC and the culture suited me, so choosing PwC was easy. The training program at PwC is fantastic and you start with a large group of people, which is different at smaller firms. You also learn a lot on the job. Smaller firms have smaller clients and you can often get to know them from the beginning, front to back. The learning curve at a smaller firm is, therefore, in my opinion, somewhat steeper. So it just depends on what suits you as a person.  
"You are more like a doctor than a confidant of the client, which means you get completely different questions than just about the audit of the annual accounts."
Can you tell us a little bit more about Vermetten? 
John started about 25 years ago on his own. When I started at Vermetten 6 years ago, about 35 people were working in 2 locations. This makes you have a very different culture. You don't have a consultation structure where 20 people have to be involved in the decision-making. In recent years many other branches have joined. At the moment we have about 200 people spread over 7 branches. This means that we are entering a new phase in terms of structure. This includes a partner structure, so this year 8 new partners will join. These are all people who already have a certain responsibility and will grow in their function.   
We also work with a team of 15 people on the audit. The nice thing about the team size is that we all know each other very well. Another nice thing is that it is not as hierarchical as I was used to. We help each other when necessary and socializing is crucial to do the job well. We have a relatively young team. The majority are between 20 and 35 years old.
We have many different types of clients and do anything that is not too difficult. So we don't do hospitals and municipalities, because you need industry-specific knowledge for that. Furthermore, we mainly have smaller production and profit companies in our portfolio, as they are highly represented in this region. Besides the audit team, we have many other teams, offering any service which an SME needs. Here you can think of: corporate finance, tax, human resources, compilation, salary, and legal. We want to be able to answer any question a client might have. 
What is your future perspective?
Many students, clients, and other people do not yet know us very well. We would like to continue to grow as an organization because if you grow you also have a good development perspective for new talents. Ultimately, we want to become the best office in Brabant. Furthermore, our strategy is to remain active in the region and focus on Brabant. This is also where the bulk of our portfolio is located.
How do you experience corona time? 
I work at home as much as possible. We try to limit contacts at the office and with customers. Sometimes this is difficult, especially if we have to count the stock, then we do have to visit the customer. Furthermore, not everyone must get overworked. We have a team meeting every week where we discuss the progress and see if we are still on schedule. I find it important to clear my head once in a while, which I do by going for a walk outside, playing tennis a few times a week, making large jigsaw puzzles, or coloring by number, among other things. Everyone is in the same situation and yes, sometimes you hear a dinosaur cry, but that has its charms too. 
Why did you choose Accountancy and do you have any other tips for students? 
As a kid, I loved numbers and wanted to do something with them. As I progressed, I realized that Accountancy is more than just numbers and that contact with companies is also very important, maybe even more important than just the content. I like the dynamics within the profession and draw a lot of energy from this. On the one hand, you have contact with the clients and you can take a look inside the kitchen at different companies and on the other hand, I have to manage several teams. 
I can only recommend students to go to as many Asset | Accounting & Finance events as possible. Go take a look at several offices so you can experience what the office atmosphere is like and what the people are like.