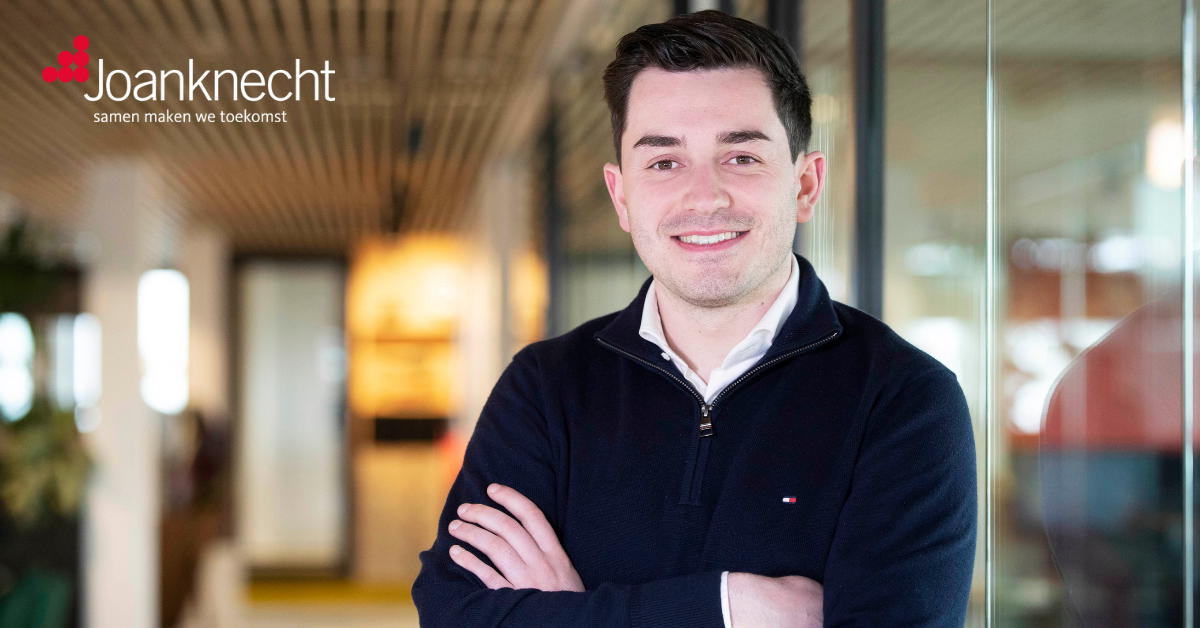 For the Dutch version, click here.
I'm Niels, 24 years old and originally from Veldhoven. Currently I live in an apartment in Eindhoven, together with one of my best friends. I am studying International Business with a specialization in Management, Change and Consultancy at Maastricht University. Before this I followed the bachelor Business Administration MER at the Avans Hogeschool in Den Bosch. Since March this year I have been working as a student Integrated Finance at Joanknecht, from August 29 I go to work full time as a business analyst Integrated Finance!
How did you end up at Joanknecht? 
Through Bas Sanders, a colleague from the IT Services team. We are members of the same soccer club and were talking about what kind of work we both do. He told me that Joanknecht is looking for young professionals in all kinds of areas. He put me in touch with Lonneke van Loon, HR advisor, and Quinten Kolvenbach, team lead integrated finance. During the interview, I immediately got the idea that Joanknecht has the advantages of a large organization, but that it feels small and personal. And that you are actually heard. I was also attracted to the fact that the Integrated Finance team is still in the process of being developed. As a young professional, you can really make a contribution to the expansion. 
And Integrated Finance, what exactly is that?
Integrated Finance means that you assist and support clients from an integrated financial perspective. That means helping clients to grow their businesses from a finance perspective. This can be done from different angles, such as IT, process optimization, strategic insight and, of course, from finance. You have to know a little bit of everything, but it's really a collaboration between colleagues within the organization. What is my strongest quality? I am still searching for that, haha! I would like to develop in the areas of change management, dashboarding, strategic management, IT and HR.
What does the work of an Integrated Finance work-study involve?
As an Integrated Finance work-study student, I work for clients two days a week. We work on a project basis. I am scheduled with a customer for a specific period. I now have two different clients, each for eight hours a week. When I am with a customer, I always work together with a Joanknecht colleague. I get a lot of guidance and there is always someone to spar with. 
I'm currently working on a project with a customer where, for example, from the financial point of view we have established that they have little insight into their margins and cost calculations. From this insight, we recommend creating a dashboard. We involve the IT Services team of Joanknecht in this. I am deployed as a business analyst to analyze the figures from the dashboard: what do the figures mean, what actions could the entrepreneur take and what impact do these actions have on the organization?  This is a nice practical example of Integrated Finance, we started with finance and eventually ended up with process optimization. 
What will your role as a business analyst look like after the summer?
If I work five days a week, it could be that I work two days a week with the same customer or, on the contrary, have five different customers. I expect that after the summer there will be more projects that I will be involved in. At the moment I am still discovering what I like to be involved in. For example, I find the IT Services team with topics like data and dashboarding very interesting. I think it would be fun to play a role in that. I have every confidence that it will turn out well. It is namely together with you look where you best come into your own within Joanknecht. Your personal development is really high on the agenda. 
What do you like most about your work in the Integrated Finance team?
That I can help the entrepreneur and the company move forward with things they don't get around to or don't have the knowledge for. This enables them to do what they are good at and they can pass on to me all the peripheral issues that they have less need of or enjoy… and that makes me very happy! 
My goal is to learn as much as possible and to gain knowledge from my colleagues. I would like to become a very good consultant so I can help the customer as much as possible!
Any questions? Niels Lubse is happy to answer them. Send him an e-mail (nlubse@joanknecht.nl). Maybe you will become a new colleague of Niels, read our employee stories and take a look at the vacancy for a student job at Joanknecht.