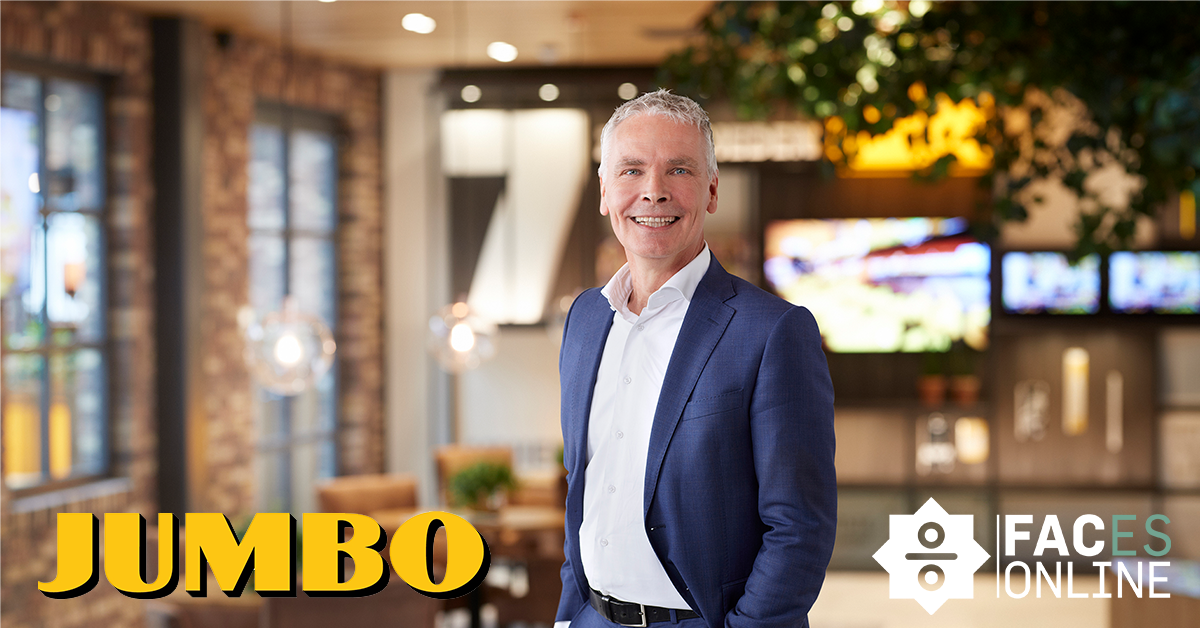 For the Dutch version, click here
My name is Peter van Erp. I am 55, married, and have two children. After my high school studies, I started to study Economics in Tilburg in 1985. Eventually, I graduated in Finance. I have always found it very interesting to look at how companies were valued, and what the rationale is behind certain price movements. Today, I am Executive Director of finance at Jumbo.

Why did you start studying Economics?
That's a good question, why do you do anything? I knew already in the fourth grade of high school that I liked it and it was also the subject that appealed to me the most. So there was an intrinsic interest in that to know something about economics. I really liked business economics, but also general economics. I think these subjects are very telling about how the world works. Also, you have to understand history to understand general economics.
What steps did you take after college?
When I finished college in 1990, I didn't know what I wanted to do. I thought everything was interesting. Then you let your environment inform you and after all the wisdom I picked up from that, I thought it was a good idea to go to an accounting firm. I worked there for 5 years and simultaneously did the postgraduate training RA in Tilburg. 
I started working at Unigro in 1995. That was one of the forerunners of the large food retail concern Laurus. So I left the world of accountancy. I liked accountancy, but not enough. I felt more attracted to the business than to accountancy, apart from the fact that it was very instructive. 
At Unigro I was a treasurer. Unigro eventually merged with De Boer Winkelbedrijven. As a result, a move to the head office in Amersfoort was planned. Then there comes a time when you have to choose: are we going to move or are we going to stay in the province of Brabant. I chose the latter option and left De Boer Unigro in 1998. 
I then came to Jumbo and saw the company change from a small family business to the concern it is today. Jumbo started 100 years ago as a wholesaler. Then we made the step to retail and with takeovers, we kept growing. Finally, in 2009 we made one of our biggest acquisitions, that of Super de Boer. We had to delist the parent company, which was twice the size of Jumbo. That was very exciting, but because of the conviction of our formula we knew we would make a success of it. After the takeover of C1000, Jumbo has grown into a concern with 10 billion euros in turnover and almost 100,000 employees. 
Why did you make the switch from accountancy to business?
This switch has been very logical for me. After 5 instructive years in accountancy, I wanted to have more influence on business processes and be more responsible for implementing decisions, instead of just giving advice or a statement with the annual accounts.

Was it a specific choice to work in the supermarket industry?

I find FMCG very interesting and challenging. You often work in a very competitive environment and you have to be very agile. Food retail completely fulfills this. The traditional marketing P's work directly on sales and profitability, so you also see short-term effects of the plans you have put in place. 
In terms of typology, food retail is not particularly complex. You buy something, you store it and you send it back to the store. Customers pay with cash at the till and you pay your suppliers on 30 or 60 days. Yet you may be surprised to learn that we base our assortment, shelf plans, layout and also selling prices on algorithms that have a lot of data behind them. Where in the past stores had a one size fits all approach, we have invested heavily to offer individual shelf plans per store that meet the eating and drinking habits of that area.
So technical innovations will play a big role at Jumbo in the future?
Big steps are being taken in this area nowadays. For example, there are already cashless stores. The checkout actually takes place the moment the product is taken from the shelf. At the moment it is still too complex to implement, but that is the direction in which it can eventually go. 
An enormous challenge is how to avoid compromising on service when you start automating and mechanizing.  You also don't want to turn a store into a very cold environment where you don't see any people anymore. So at the moment, we are mainly working on making the supply chain more efficient. For example, a year ago we started using a fully mechanized distribution center in Nieuwegein. Here products are collected and then stacked on a roll container, without human intervention. These are investments of 100 million euros. To be able to finance this, having sufficient scale and profitability is self-evident.

To what extent will online grocery shopping play a role in Jumbo's business model?
Online grocery shopping is an integral part of our business model. Since corona, it has made an enormous flight.  Customers have become increasingly accustomed to it and also experience the convenience of online shopping. The competition is perhaps even fiercer than in the bricks-and-mortar world.  The customer wants it and we follow the customer. The problem, or rather the challenge, is that the customer is hardly willing to pay for it. So here too we will have to have sufficient scale and mechanize the logistics processes to increase the return.

Are you also planning to chase competitors like Gorillas and deliver groceries within minutes?
That's a tough question because if we have to do everything the competition is offering today, you have to be playing chess on a lot of boards. We just have to stay the course and continue to execute our own strategy.  And that is that we want to be an omnichannel food retail player. To be where the customer needs us, both offline and online. That means, for example, wanting to inspire customers in beautiful stores like a Jumbo Foodmarkt or give convenience online.  Also with our La Place formula, we are further implementing our omnichannel customer proposition.

How exactly has the COVID crisis affected Jumbo?
You could say that this crisis has generated extra turnover for supermarkets. For example, people went out to eat less because the catering industry was closed. Supermarkets have benefited from this. But it is not true that only turnover has increased. This crisis also brought with it a lot of costs.  Additional security and checks in the store, less efficient collection because of the 1.5 meters, et cetera
On balance, by the way, I don't think any supermarket should complain about business at the time of corona. The downside for Jumbo is that we were hit hard by the compulsory closure of our La Place restaurants. 
Incidentally, we did not appeal to the government's NOW schemes, although we were entitled to them according to the scheme. We felt it was our social duty to refrain from doing so since we could compensate our losses in the catering business with the profits in the Jumbo stores. Nor does it suit our business to apply for state aid at a time when, as a food retailer, you actually benefit from a crisis. That money is and was simply better spent on companies that really need it.