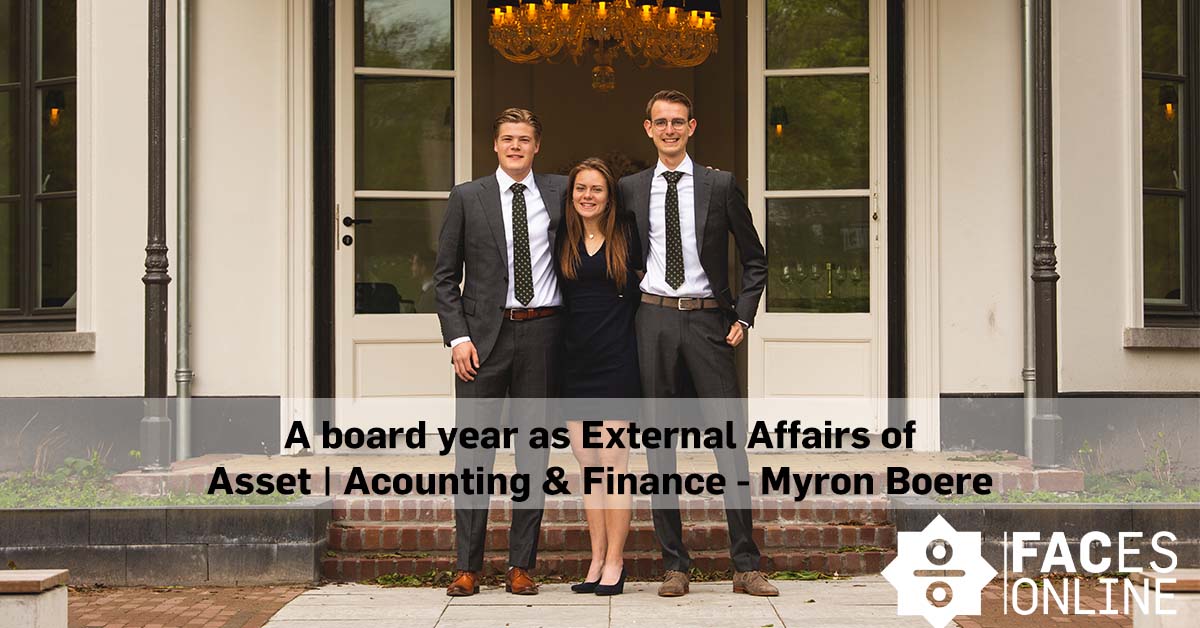 For the Dutch version, click here
Who am I?
My name is Myron Boere and I am 23 years old. I am from Benschop, a small village in the province of Utrecht. Last year in December I received my Bachelor degree in Business Economics and in September I started with the Master Accountancy (zachte knip). I am now living in Tilburg for 4 years and since 2 years active at Asset | Accounting & Finance. My time at Asset | Accounting & Finance started with the Orientation committee, then the Accounting Expedition and later on I decided to do a board year. 
Why a board year?
I had been wondering for a long time whether I would like to do a board year, but I also doubted whether it would suit me and whether I would be willing to put all my time into one organization for a year. In the end, there are a number of factors that make me very happy that I decided to do it after all. A board  year has many advantages: You get to know a lot of new people, both formally and informally, you develop yourself through the year in various areas because you are leading an association, you have a lot of conversations with partners and, ofcourse, members. There are also some things you have to give up like: you have little or no time to study, a little less time for friends/family and a day of chilling on the couch is also less likely. 
I had already applied for a board year at A&F previous summer. Unfortunately, I did not get through the application procedure. After this, I actually had the idea of continuing my studies, finishing my master's and applying again the following year. During my master's I quickly noticed that the motivation for studying was completely gone. This was mainly due to Covid-19 situation; sitting at home and having to open my laptop every day and work on school projects was pretty hard for me. During that time I started to consider doing a board year in the winter. I often talked about it with Richard, who is a good friend of mine and was also on the board at the time. From those conversations, I finally decided to take on the challenge of starting a board year in the winter.
How was my time on the board?
I kicked off my board year during the period with the worst corona measures. In the beginning it took some time getting used to doing a lot from home. This was especially difficult with the transferperiod, because I had to learn everything from Evelien in a short time and I also spent some time in quarantine. Furthermore, with the constantly changing measures it was constantly a challenge how we could make our events happen. These issues were also a daily topic of conversation which led us to test a lot of online platforms. You could almost say that I became a real Zoom pro, with all the break-out rooms, online drinks and formal online events.
In the beginning it was still very difficult to find out exactly what my function entailed and what my tasks were. Partly thanks to Evelien and Simo, I quietly rolled into my role as External and got the hang of it, if I do say so myself. An External Affairs function basically entails the following: First, you are responsible for a business portfolio of about 30 -35 companies with whom you have to maintain contact. With some partners you have a lot of contact, because they participate in events and also have exposure opportunities with us. Secondly, it is important to recruit new companies for events and to look for potential long term partners. 
As an external you also have a weekly meeting with all the other externals of Asset, where I was also allowed to fulfill the role of Vice the last half year. This means that I was often sparring with Wout (Acquisition Coordinator) about partnerships, university related issues and of course various issues within Asset. I am also responsible for our social media and update the board monthly on the numbers (reach, clicks and likes) and the three events that fall under my responsibility: namely the Banking Days, the Financial Business Dinner and the Finance Expedition. For the last two events, I also coordinate a committee, with which you have weekly meetings to ensure the best possible event. In the beginning I was a bit reluctant to do this, partly because I am not really a leader by nature and prefer to do a lot of tasks myself in the background. However, I was always told that I had to outsource tasks, because the committee also has to learn all the important tasks and as a board member you are already busy enough with all the other tasks. Furthermore, I have become the chief design officer of my board. So I use Indesign a lot and it appears that I have mastered the tricks of the trade. Simo and also my other fellow board members have often used this.
"You could almost say that I became a real Zoom pro, with all the break-out rooms, online drinks and formal online events."
Finally, you have the general duties that you share with your board. Every Monday we have our board meeting. Here we discuss the state of affairs within A&F and Asset broadly. Other tasks we share are discussing our vision on various developments within A&F and what our opinion is in discussions, being present at our (in)formal events, speaking to members when they are in their rooms or when something is not clear and of course helping my other boardies when they can't figure something out or needs my opinion.
How did I grow personally during my board year?
In general, I am a quiet person who likes to wait and see and doesn't take the initiative easily. During a board year you often have to take the initiative and be assertive, because otherwise some things just don't happen. After all, others are not going to do it for you. In the beginning I had some trouble with this and to be honest I still do, but all in all I have certainly grown in this. A strong point of mine is that I am always critical. My critical eye has often helped me throughout the year, because I think about a lot and therefore have all possible situations already played out in my head. Especially in this board year where Covid-19 forced us to be flexible this came in handy. However, this is also sometimes a small stumbling block. Since everything is in my head and I don't write everything down, some things slip in or are forgotten. In this respect I have grown, but unfortunately I am also stubborn, so I will always keep my own way of working. Furthermore, I always have a strong and critical opinion and I always want to share this with my fellow board members. 
All in all, I have learned a lot in this board year, especially about myself. What I am most proud of is how you and my fellow board members set everything up, from the informal online get-togethers with two people at home to again the first physical events, where we finally got to let go of the 1.5m rule. I am very glad that I started this board year, especially because I have experienced both spectra: from the worst lockdown with a curfew to almost back to the old days with 'normal' physical events.
If you are hesitating about a board year or if you want to know more about what I did and how I really experienced it, feel free to come by the rooms. I'll be happy to explain everything over a cup of tea (I still don't drink coffee).