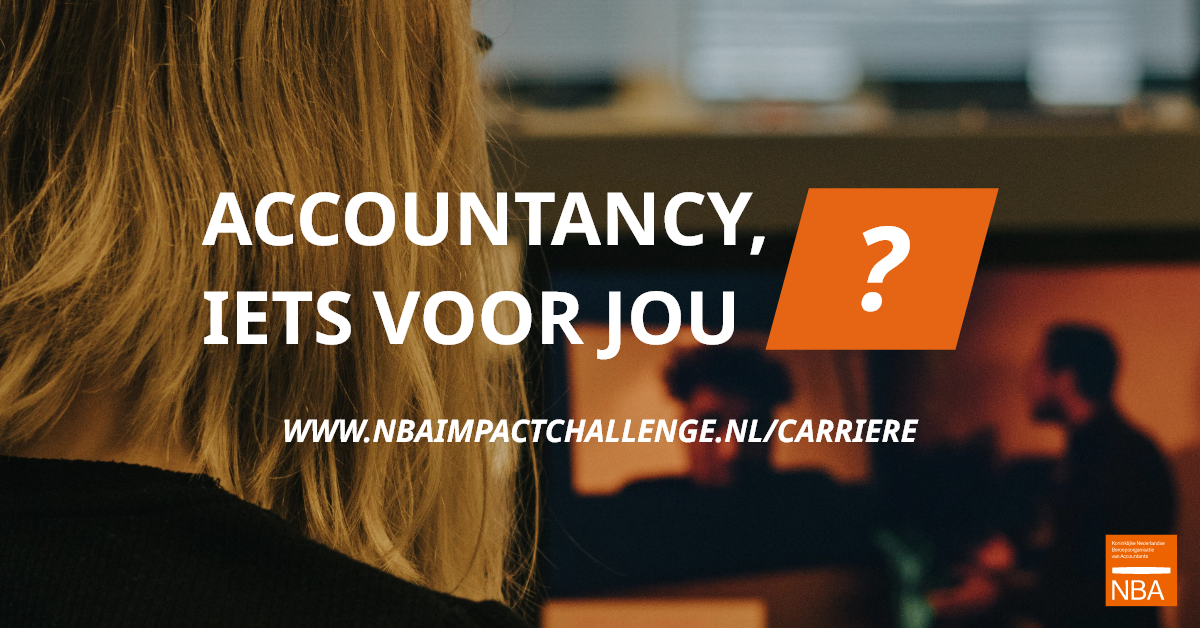 For the Dutch version, click here
Patrick van Zwieten is Senior Accountant at BDO and also an ambassador for the NBA. In this interview he talks about his experiences in the accountancy profession, the importance of the NBA and gives his vision on the future within Accountancy.
Can you tell us something about yourself? 
My name is Patrick van Zwieten and I have been working in the field of Accountancy for four and a half years now. I have a higher vocational education background, after which I followed the part-time master's program at the University of Amsterdam. 
Within BDO, I work in the Audit & Assurance department where I primarily serve clients in the corperate segment.
Why did you choose Accountancy?
I found this a very difficult choice at first. I initially worked at ABN AMRO in the investment department for a while. This was more finance-related and that's why I actually wanted to do a master's in finance. I then decided to look around for more information by, among other things, taking part in various trial days at accountancy firms. I discovered that I didn't really know what accountancy entailed and after the trial days I realized that I had a completely different idea of what accountancy actually entailed. The profession requires analytical skills, but also social skills and you have to be able to deal with deadlines. After this, I finally made the choice to go in this direction.
What are the biggest differences between Finance and Accountancy?
If I compare it to the RA audit practice in Accountancy, we have a project every five to six weeks and we visit the client. This concerns the audit of the financial statements and we speak to all layers of employees within the organization. This makes it very diverse and fun, something that is less applicable in Finance. In addition, you see many different companies, for example, last week I was at the office of a pharmaceutical company and next week I will visit a large clothing retailer. 
What does an average accountant's work week look like?
Actually, every week is different. It also varies a lot what function you have within the office. If you are just starting out, then you will often be working on an executive level. After a year or two or three, you often get more responsibility and start supporting and guiding starters. The longer you work in the company, the more you are allowed to lead the smaller teams and act as manager, while with the larger clients you still mainly have the executive task. This ensures a good balance. Besides the 'standard' work at BDO, we sometimes have a padel tournament with the office. This ensures that we can also meet up outside of work hours and build up a good relationship with colleagues.
In addition, we are actually at the client's office every working day. The audit consists of two parts: the interim part and the year-end part. During the interim part, we visit the client to gain knowledge of the client and the company's process in order to analyze risks, but also to find points of departure for our audit. In the second year, which often starts around January, we really look at the figures. Using various techniques, we then check whether the annual accounts are actually correct. 
How has combining work and study worked out for you?
In the beginning I found it quite hard. I started working full-time and also had a part-time master's degree to complete. Especially in the first year I was searching for the right planning. I noticed that over time I could find my feet and things went better. This was also because everyone around me was going through the same process, both my colleagues and my fellow students. The office also helped me a lot, we get an extra day off before exams and we can ask for help if we find a course difficult. 
What are the opportunities after getting your master's in accountancy?
I think there are many possibilities once you have your degree. In the path of RA, you could grow within the office to partner, but in addition you also see that someone with an RA title is popular in the business, you are then Accountant in Business (AIB). This is for example in large companies to work in the finance department. Another possibility is to become CEO or CFO. So outside of the accountancy field, it offers a huge amount of opportunities in the job market. 
Can you tell us a little bit about NBA?
The NBA is the Dutch Professional Organization of Accountants. There are over 22,000 registered accountants in the Netherlands today. These are both Chartered Accountants (RA) and Accounting Consultants (AA). They are all listed in the NBA register. This organization promotes the professional practice of accountants. They do this by drawing up rules of conduct, testing the knowledge of accountants and providing education. At the end of the practical training, there is a final exam that tests whether you are capable of acting as a starting professional practitioner. However, before that happens, you must first complete your theoretical training as a Chartered Accountant before you can complete the practical training as a Chartered Accountant.
What is the role of the NBA within the field of Accountancy?
The NBA plays a big role. On the one hand, it is the NBA's job to monitor us and check whether the firms are meeting the quality requirements. But in addition to that, the NBA is in talks with the Ministry to draw up an accountant protocol. The offices will then be presented with guidelines with which they can check whether, for example, last year's NOW scheme was rightly obtained.
What does the NBA ambassadorship entail?
There is a fair amount of shortage on the labor market within Accountancy and through the NBA ambassadorship they want to try and give a better insight into the profession of accountant from secondary school / the start of your studies. Both RA and AA accountants are involved in this. We visit high schools, colleges and universities to give a course and explain what is involved in being an accountant. The ultimate goal is of course to make people enthusiastic about studying accountancy.
How did you come across the NBA ambassadorship and why did you choose this?
I was asked by BDO and, as I mentioned earlier, I didn't really know what exactly Accuontancy look like either and this is why I am currently participating in the NBA ambassadorship. When I talk about it with friends or acquaintances, they have a certain image of the accountant. This is a completely different picture and there is so much more to it than just being busy with numbers behind your computer. I think it's a real shame that many people still think this and that's why I am now an NBA Ambassador. 
What is your view of the accounting profession?
A lot is written and mentioned about the quality within Accountancy, think of scandals from the past. At the moment the NBA is drafting new guidelines and tools to prevent this in the future, but we also have new auditing techniques. We are moving much more towards analyzing data and big data and this will hopefully help us to avoid such mistakes in the future. 
What do you think could be given more attention in the future?
one of the discussion points nowadays is what role the accountant should play within sustainability reporting. I think that frameworks should be drawn up for this, up to where the responsibility lies with the accountant. Is the accountant also expert enough to think anything at all about this? I think that a lot of attention can be paid to this in the future. 
Do you have any tips for students?
One of the most important things I want to pass along is that it is important to start orienting yourself early. Go to in-house days, walk-around days, and other activities to get to know companies. Do this outside your current study area so you can broaden your knowledge and get a good feeling about your choice.