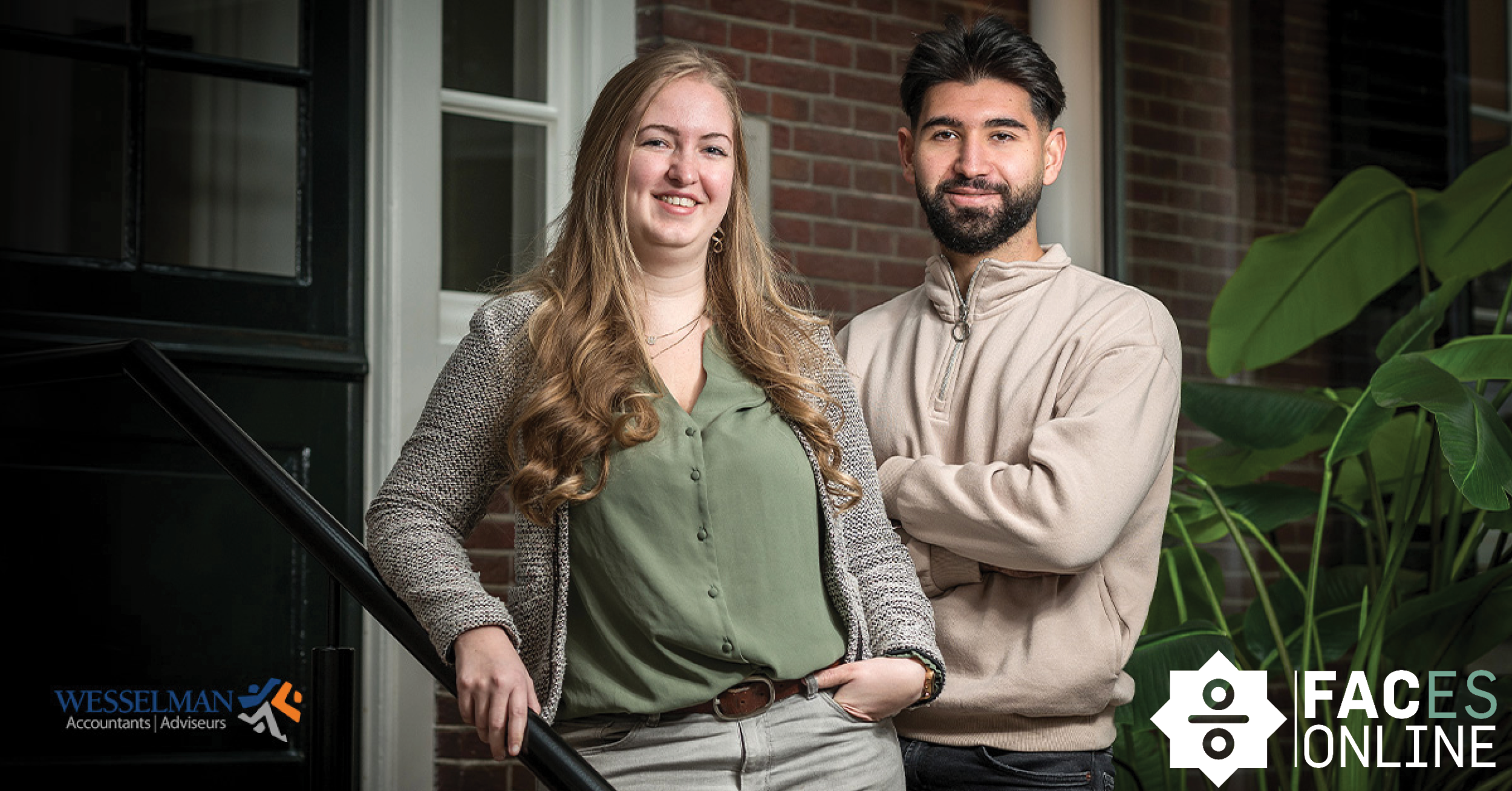 For the Dutch version, click here.
"You get every opportunity to pursue your dreams."
Mithat Yucel combines his role as Assistant Accountant at Wesselman Accountants | Advisors with a Master's degree in Accountancy & Controlling at Maastricht University. "A tough study, but Wesselman takes this into account – even during busy periods," he says.
Lotte Elsenaar sits down at 'De Berk,' one of the stately meeting rooms of the monumental building on the Aarle-Rixtelseweg in Helmond. She decided, after studying Tax Law & Economics, she also wanted to obtain her RA title. "That decision didn't happen overnight," she explains candidly. "A study requires a lot of time and energy, and I wanted to combine it with my job as an Assistant Accountant."
Essentially different
According to the duo, this is what sets Wesselman apart from other firms. "At Wesselman, you are listened to as a person. You get every opportunity to pursue your dreams," Mithat answers. Lotte and Mithat also appreciate the small gestures from Wesselman. "Just a little present, a gift with your birthday or a bunch of flowers when you buy a new house. Happiness is in small things," adds Lotte.
"We have lunch together with our colleagues every Thursday. Very nice to be able to catch up," says Mithat. "Definitely! These lunches are always super well taken care of," Lotte adds to him. "Every week it's a treat! We have – apart from this weekly lunch – a control lunch with the team once every two months; all personal and business highlights and successes are discussed and celebrated then!"
Making big steps
Lotte and Mithat talk about GROW conversations, which focus on personal development. Together with your manager, you look back on the past period and determine your learning goals for the coming period. "You get to determine your own path," says Mithat. Goals and expectations are also mapped out during the pre-audit meetings. Everyone gets to indicate his or her development points. "I have learned a lot with regard to mentoring juniors," adds Lotte. "My supervisor gives me regular feedback. That feedback allows you to develop further."
Never the same
Every client is different; there are different risks involved everywhere. "That's what makes it so much fun," Mithat explains enthusiastically. "I pick up certain posts, chart developments and work through to-do's."
The basics are good. "We start the day with the team," Lotte explains. "Very nice, because that way everyone knows what's going on. Sometimes you work in the office, other times on location. A nice variety and the perfect opportunity to discuss important matters with the client. The role of Assistant Accountant is very diverse!"
Wise counsel
Still, there is one thing the pair would like to give students. "Make careful considerations," Lotte replies. "Look carefully at which firm suits you and don't underestimate the pressure – of working as well as studying." Mithat nods in agreement. "In addition, it is also important to look into the educational possibilities. I study in Maastricht because for me that was a finer and especially more practical choice than Nyenrode. There is no right or wrong and you should mainly do what feels right for you."
Would you also like to work at Wesselman?
Then contact Milou Kutscha at hrm@wesselman-info.nl or 0492-54 85 55. Who knows, maybe we'll have a cup of coffee together soon.