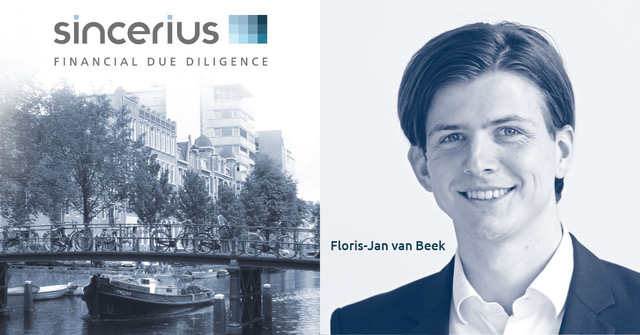 Who am I?
My name is Floris-Jan van Beek (26) and I grew up in the fairly small and unknown village of Lierop, in Brabant. Due to the 'gezelligheid' in Brabant and the excellent university, I decided to study in Tilburg; first of all, a Bachelor program in Business Economics followed by a Master Program in Finance. During my Masters, I went 'down under' in Sydney for half a year where I combined writing my thesis with working at an investing company. I started as a consultant at SINCERIUS two years ago.
What does SINCERIUS do?
For students, SINCERIUS might be a less known company. However, within the world of M&A we have built a strong reputation and became the winners of the 'Best Transaction Advisory Services' M&A award in 2018. We are an independent, financial due diligence boutique and mainly work by order of private equity firms. SINCERIUS comes into the picture as soon as the buyer and seller have come to an agreement about the price. Financial due diligence means figuring out which factors can have an impact on the acquisition price via data analysis. Think for example about one-time events, deferred maintenance, etc. Then, clients take our report with them to their negotiations. Therefore, our findings can have a great impact on the deal!
How did I meet SINCERIUS?
SINCERIUS has been a partner of Asset Accounting & Finance for several years and can be found on their website. During my orientation, I have been looking at different company profiles on the website. The experience I gained at the investing company led to an interest in M&A; also, I wanted to do analytical work and work in a small, close and ambitious team. That is why I chose for SINCERIUS. I went to a job interview and the rest is history. In the meantime, our team has been expanded and still grows steadily. Currently, we have about 20 employees.
" We are not suited up every day, regularly go out for a walk with colleagues and when the weather is great, we take our SINCERIUS boat out on the canals."
Why SINCERIUS?
M&A, analyses and a small team were the reasons for me to apply for a job. The first interview convinced me. Firstly, you learn a lot from working together with the 4 partners. Secondly, as a starter or intern you are involved with the whole process of due diligence right away; from analysis to talks with clients. In addition, as an external consultant you come to know a wide range of firms and company models. Think about rental companies, promotrucks and online platforms for sending packages. This is what makes my work very interesting. The duration of projects is quite short, ranging from 2 to 5 weeks. This allows for dynamic work.
How does your typical work day look like?
My day starts with looking at emails and the data room. New information could be uploaded, questions can be answered, or your proposal for a new potential client could be confirmed. Hereafter, together with a colleague I discuss how we can continue our project in the best possible way and we dive into analyses. Then, we discuss our previously made analysis with the management team/CFO/CEO. There are things that can make such a meeting special, such as a client saying 'I haven't looked at it from this perspective yet' or 'I didn't even know that this was possible with our information'. In such cases, I go home more happily or (if I'm lucky) to a drink where I end the day with colleagues or other M&A professionals.
How would you describe SINCERIUS' work culture?
We work hard and make fun. Within M&A, the bar is high and SINCERIUS is not an exception. We have a close team with an informal atmosphere. We are not suited up every day, regularly go out for a walk with colleagues and when the weather is great, we take our SINCERIUS boat out on the canals. Work hard, play hard!
Which steps do you have to take to work at SINCERIUS?
Apply for a job! This can be done by sending an email to solliciteren@sincerius.nl to the attention of Eveline Pernoud. There are sufficient possibilities to start as a consultant, both for internships and starters. And if you would like to know more about what we do, then mail to the above address as well or call 0629192829. Eveline will happily plan a coffee talk for you with me or one of our other consultants.