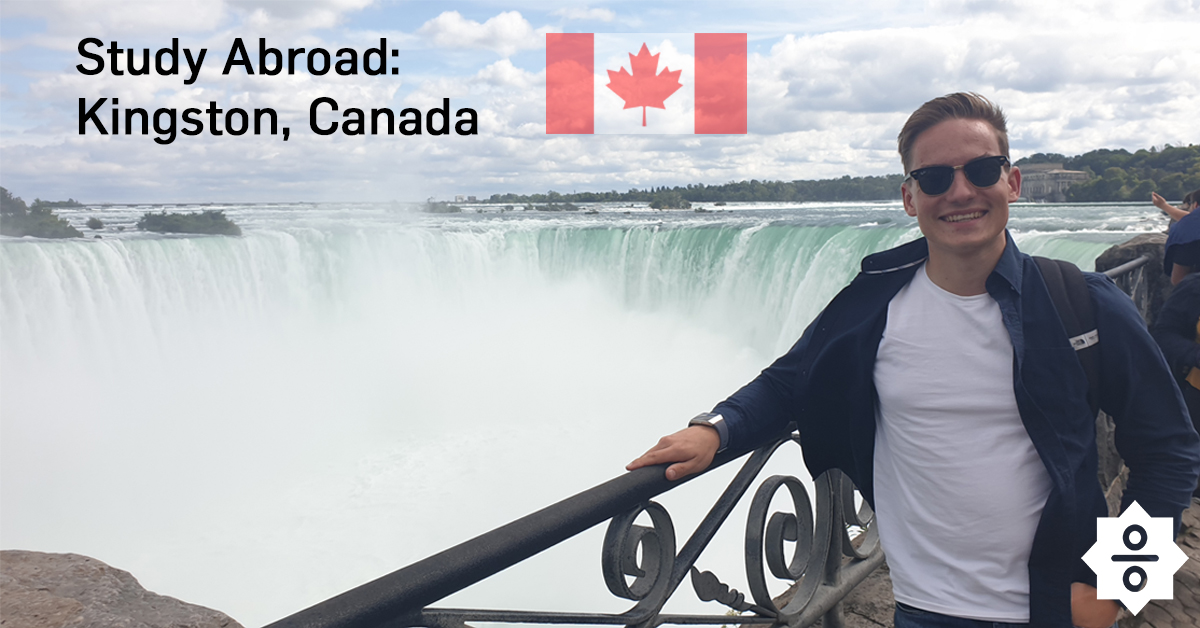 For the Dutch version, click here
Mooses as large as cars, walls of snow growing meters high and endless nature. This were the stories that my family from Canada told me when they came to the Netherlands a few years ago. They wanted to see where we live, what we do in daily life and what we enjoy most. These stories motivated me to find an opportunity where I could go to Canada for a longer period, to experience these things for myself. At the beginning of my third year of my bachelor at Tilburg University, I had the opportunity to study abroad for a semester. This was the perfect opportunity for me to go to the other side of the world. After doing some research at universities in Canada, I ended up at the Smith School of Business, which is part of Queen's University, in Kingston.
Smith School of Business
The Smith School of Business is part of Queen's University in Kingston. Approximately 35,000 students from 100 countries study at this university. They have an academic history dating back to the year 1841 and they are considered to be one of the best universities in Canada. As a result, only the best and most motivated students in Canada are allowed to study here. In order to be admitted to this school, students must have a minimum average grade of a nine and be active in various areas outside of their studies. This was an opportunity for me to measure myself against the most motivated and intelligent students in Canada. Especially the group projects and discussions were very interesting because the students here did not settle for a six, but wanted to get the most out of it. The lectures lasted an hour and a half without a break and the lecture hall contains about 40 people. The lessons consist of one hour covering the theory and then there is a joint discussion or assignment. This way of teaching is considerably more interactive than I am used to from the lectures in Tilburg. At the beginning I had to get used to it and in hindsight I see the great value of sharing your own opinion on the subject and discussing it with others. In my opinion the level of theory is a bit lower than the level in Tilburg, but there is more emphasis on interaction between students and how you communicate certain things. An example is thinking about the design of PowerPoints and presentation skills.
Canada the country of the Maple Leaf
Canada is the country of the Maple Leaf. You will find the symbol everywhere, reaching from the national flag to every kitchen table in the shape of a small bottle of Maple Syrup. Canada is the second largest country in the world but has a population of less than 38 million. The biggest difference with the Netherlands is the availability of space and the amount of nature in the country. What first struck me is how social the people in Canada are. Just like any exchange student in the beginning of the exchange period, it was hard for me to find where I had to go and what I needed. As soon as people realized that I was not from Canada, they immediately came to me without thinking any further. They started by default with the sentence "Welcome to Canada" and this indicated to me how social the people are, no matter where you come from. I also noticed that everything in Canada is just a little bit larger than in Europe. The cars, buildings and the portion sizes of the food you order are all one size larger. Furthermore, Canada is a diverse country, you have cities habiting millions of people and where there's always something to do, but you also have several parks where you can go to escape the crowds. Here you can camp, canoe and enjoy nature. You have to take into account that in some parks you do not even have mobile reach. I spent most of my exchange in the town of Kingston. This is between the two extremes, you have a lively center with plenty of nice restaurants and cafes, but on the other hand, you have several parks in the area where you can go hiking and retreat. In short, there is something for everyone and there is so much to do and see that four months is actually not enough.
"For me, the biggest difference with our own cultures was the degree of empathy and nationalism in everyday life."
A worldwide network
The most important take away from my exchange are the contacts I have made all over the world and the experiences with different cultures. Besides the fact that I have been able to work together with several Canadian students, I have also been able to work together with other exchange students from all continents. This gave me a chance to learn from the other cultures and prepare myself for working with others in the future. In addition to discussions and assignments, I was also able to do fun things with these people, such as having dinners, partying and making weekend trips to surrounding cities. This way we could explore the country together and get acquainted with Canadian culture. For us, the biggest difference with our own cultures was the degree of empathy and nationalism in everyday life. From saying "sorry" no matter who is to blame, to Canadian flags that were everywhere.
Hard work but an amazing experience
My exchange semester was amazing and I enjoyed every aspect of it. Even though it was hard work and exciting at times, I was able to learn a lot. I think it is rather important for every single one to look beyond the Netherlands and our situation here. In a world that is constantly changing and where the relative distance is getting smaller and smaller, you have to be able to work with everyone. Furthermore, it provides you with the opportunity to go out and meet loads of new people. I will take my experiences with me for the rest of my life and I can recommend everyone who gets the opportunity to go on an exchange to grab it!