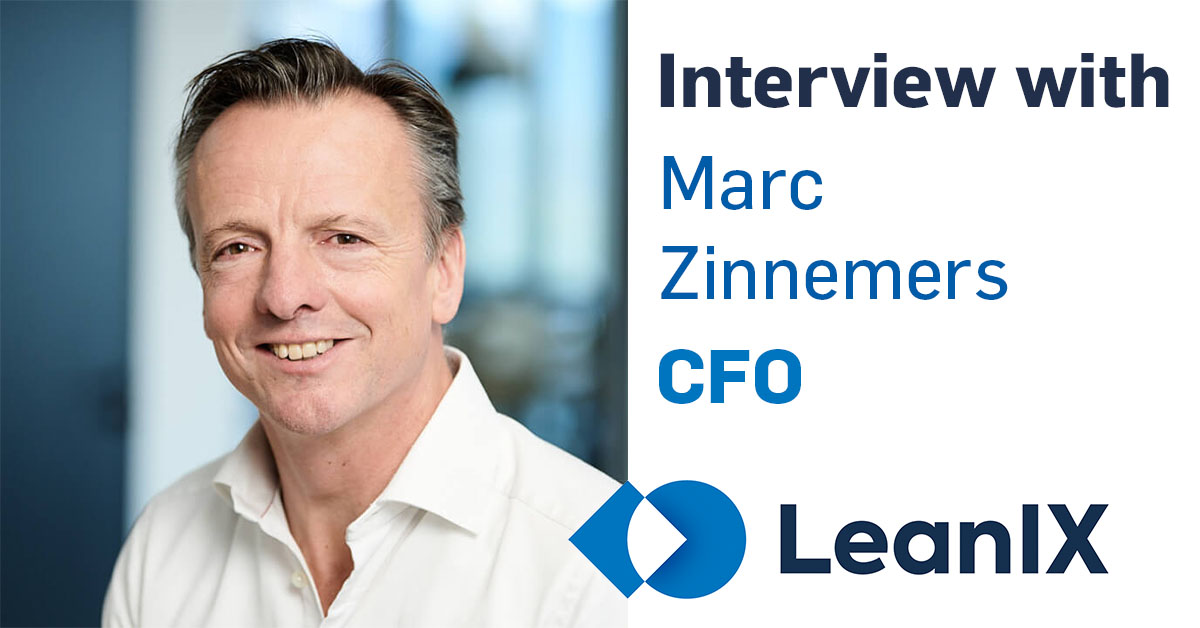 For the Dutch version, click here
Nowadays, data is ubiquitous. Based on data, new possibilities and insights can arise within a company. Furthermore, IT is an important success factor for almost every organization, even within the finance and accountancy industry. Thus it's not surprising that SaaS (Software as a Service) companies are on the rise. So, what is it like to work for such a company? In this interview, Marc Zinnemers, Chief Financial Officer (CFO) at LeanIX, provides insight into his career from Business Economics student to CFO of a software company. He guides us through the growth story behind LeanIX and shares the vision of the company. Marc concludes with some rather important tips for students.
Can you give us a brief glimpse of your career?
I completed both my bachelor and master programmes at Tilburg University, at the time still referred to as the Catholic University of Brabant (KUB). I followed the Bachelor of Business Economics and a Master's program in Finance, respectively, and during my study period I was also active at Integrand. At that time, the military service was still in force, so after finishing my Master's in Finance, I was in military service for another year. Furthermore, I fulfilled various roles at software companies such as Exact Software, i2 Technologies and RES Software. On October 1, 2019, I joined LeanIX, an innovative software company. Over the course of my career I have mostly been confronted with hypergrowth, a doubling of a company's growth year over year. Hypergrowth is something I really enjoy working on, because of the energy it brings to an organization. Besides, I like expanding and developing new teams.
Can you describe how you rolled into the position of CFO?
That's a good question. After all, there is no defined path to such a position as CFO and I have never aimed at the position of CFO as the ultimate goal for myself. Above all, I have had different positions and a wide range of tasks. Within my career, for example, I have been active not only in accounting and finance, but also in operational, personnel and legal affairs. Personally, operational business processes have always caught my attention, and from here I have gained a broader insight into the bigger picture and not only into the financial branch of the company. I assume this broad foundation has ultimately ensured that I have been entitled to the position of CFO.
Can you explain what type of company LeanIX is?
LeanIX is an international software company founded in 2012. They had derived their business plan from work they previously carried out for the IT department of a global logistics service provider. They saw a gap in the market. This was where multinationals struggled to get a complete insight into the architecture (processes, systems and applications) of the company. LeanIX provides insight into the IT landscape for multinationals, think of a Google Maps in the fields of ICT. LeanIX maps out the landscape, shows which applications are running and which business processes are supported by them. Furthermore, LeanIX creates insight into the associated risks that large multinationals are exposed to. Nowadays, LeanIX has offices in Boston, United States and Hyderabad, India.
Does LeanIX suffer from competition? 
The sector in which LeanIX operates has been around for 30 years. On the one hand, there are players who have been in the sector for a long time. These players have developed a lot of functionality but have not innovatively grown alongside with their customers. On the other hand, there are a few companies that do something similar, but they, just like LeanIX, have only been around for a few years. In addition, there are several companies keeping track of this manually in Excel and Powerpoint. In my opinion, competition is always good to have and it keeps you extra focused.
"However, our long-term vision is not focused on growth because we see growth as a result."
What is LeanIX's long-term vision?
At LeanIX, we are at the start of a wonderful growth process. On January 1, 2019, LeanIX only had 90 employees. When I started as CFO six months ago, we employees at LeanIX and at the moment we have 225 employees. But we are also experiencing upward trends in other areas. This trend is reflected in the doubling of the turnover, but our customer base has also grown from 100 to 270 customers in one year. 
However, our long-term vision is not focused on growth because we see growth as a result. Instead, our focus is on innovation, having a satisfied customer base and increasing the use of our software within our customers' companies. In addition, we want to make the shift from an international company to a global company, which means that our software is used all over the world and not solely in specific parts of the world.
What does the cooperation within the management board of LeanIX look like?
Despite the fact that I would like to call the cooperation between the LeanIX management intense, we only sit around the table together for two hours a week. As the LeanIX management, we apply OKR (Objectives and key results) principles. We have five objectives, which we set at the beginning of every quarter. An objective is an ambitious target since we want to achieve a specific goal, such as "Become market leader in Enterprise Architecture Space". We translate this objective into key-results, such as turnover and customer satisfaction. In this way, for each objective we set three business outcomes that we, as LeanIX, want to achieve that quarter. We report these results on a weekly basis and monitor the progress within our company and adjust them regularly.
Could you give us some insight into a working week of yours? Is it possible to separate work and private life?
Our headquarters is in Bonn, Germany. Our other offices are situated in Boston, USA and Hyderabad, India. I live in the area of Tilburg. I'm used to operating internationally. Ever since I started working at LeanIX, I work from Monday to Wednesday at the headquarters in Bonn. Afterwards, on Thursday and Friday, I usually work from home. I also visit the office in Boston once every two months.
Work and private life are not completely separate for me, but I don't have a problem with that. We are an international company, so a nine-to-five work-day doesn't work. However, I do find it important to pick times when I can do sports or enjoy time with the family.
Do you have any golden tips for the current generation of students?
Orientate yourself widely and do a lot of activities alongside your studies. The broader the scope of your activities, the easier it is to act in different roles. However, don't forget to specialize in a certain area during your first work experience and focus on that in the beginning of your career. In this way you will create a good basis and you will be able to achieve further growth. Finally, don't forget to enjoy your student time as well!
For more information about LeanIX, please visit their website: https://www.leanix.net