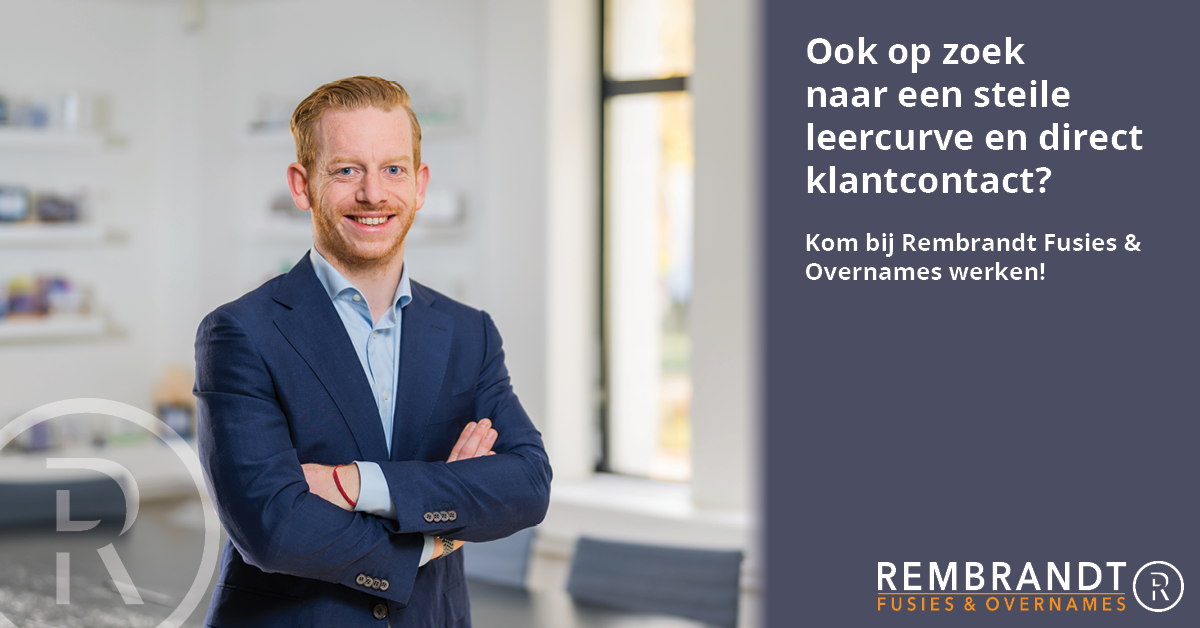 For the Dutch version, click here
Who are you and what did you study?
My name is Felix Gulinck and I am originally from 's-Hertogenbosch. Since the start of my study Econometrics I have lived in Tilburg. After completing the bachelor Econometrics & Operational Research, I did the master Quantitative Finance & Actuarial Science (QFAS). During my studies I always played hockey in the premier league at HC Tilburg Heren 1 and I still do that now.
How did you come into contact with Corporate Finance / M&A? Knowing that there are many different options within finance?
During my master I followed a number of finance courses and I soon found out that I had more passion for that than the hardcore Econometrics courses. Knowing this, I spoke with several people who work in the M&A sector. At a certain point I had a good idea for myself at what kind of company I would like to work and then I came into contact with Rembrandt Mergers & Acquisitions.
How did you come into contact with Rembrandt Mergers & Acquisitions?
Because I knew at a certain point that I wanted a job in the M&A sector, I was able to delve further into what kinds of companies operate in that sector. My preference was for a company where I would not only sit behind my computer but also have contact with customers. In addition, I was looking for a company with a friendly atmosphere. What really appealed to me about Rembrandt was that projects are carried out in teams of two; a project manager and a project assistant. As a result, both the project manager and project employee are closely involved in every step in the purchase or sales process, and as a project employee you also have a lot of contact with customers.
What is the ideal profile of a student/starter who would like to work at Rembrandt?
At Rembrandt, we would like you to have completed at least 1 master's degree in business economics. The master's in finance is best suited in terms of subject matter because you will already have had some valuation theory. But with good numerical insight and some extra preparation you can also be hired. Rembrandt is looking for students who distinguish themselves. The combination of grades, study duration and, above all, additional activities are viewed as an overall picture. I'll take myself as an example: Econometrics is not the program that best suits M&A. But by completing a financial education at university, you have a good (numerical) basis. In addition, as a top athlete you also take extra luggage with you; dealing with performance pressure, good feedback skills, training and team dynamics.
To what extent are aspects of your studies reflected in your work?
It was only during my master's degree that I took a few finance courses, but then it was all quite theoretical and it was difficult for me to determine to what extent I could apply it in practice. Now that I have been working for a number of years, I notice that I understand better and better how you can put the acquired theory into practice.
"When a transaction is closed, this is of course celebrated with champagne."
The Transaction services sector is known for having to deal with high work pressure and long hours, how close does this come to reality?
There are certainly times when the workload is high and you may have to work overtime, but that is certainly not the norm with Rembrandt. By managing expectations well and by planning well, you can largely ensure that you do not get stuck. In addition, colleagues think along when one person is very busy, for example by taking over certain activities. Rembrandt's culture is also that you work "normal hours" and work-life balance is important. This gives me time in the evenings for other things, such as playing hockey. As a team we train 5 times a week and we also play matches. Rembrandt thinks along with me and gives me the freedom to organize my days differently so that I can attend the training sessions.
What makes Rembrandt different from the transaction departments of 'large' firms (e.g. Big4)?
Rembrandt is an M&A boutique that mainly focuses on SMEs in the Netherlands. We attach great importance to the work-life balance. We work with small project teams, so you can quickly take on a lot of responsibility and have contact with customers. Because the project teams consist of 2 people, you are involved in the entire process and you guide the entrepreneurs from the beginning to the end. I myself have no experience with how things work in the transaction departments of the larger offices, but I can well imagine that the project teams there are larger and that as a starter you therefore have fewer responsibilities and less direct contact with customers.
What does the average week of a Consultant at Rembrandt look like?
The work at Rembrandt is very different and no day is the same. Because you are involved in different projects, you are busy with various activities during the day. The work varies from performing valuations to negotiating with potential candidates. A working day at Rembrandt is difficult to predict because often things come up in between that have priority for a while. As colleagues we have a lot of contact with each other and we try to help each other where possible. When a transaction is closed, this is of course celebrated with champagne.
Both positive and negative: what is the most challenging part of your job at Rembrandt?
The variety in Rembrandt is something I really enjoy and find challenging. Both in terms of companies, we do transactions between roughly € 1 – € 100 million in all sectors, and in terms of type of transactions, both buying and selling. Each project is ultimately different due to the activities of the company and I have discovered that entrepreneurs also differ a lot from each other. It is important to find a certain click with every entrepreneur and to gain their trust.
Where do you see yourself in 5 years?
I have been working for Rembrandt since 2019 and have had a great time ever since. I think it is very important to keep developing myself in the coming years, both in terms of content and relationship with the customers. My goal in the coming years is to take on more and more responsibility within the various projects and to independently guide entrepreneurs in the purchase or sale of companies. We'll see where I will be in 5 years!
Do you have any tips for students interested in Corporate Finance / M&A?
What really helped me was talking to several people who were already working in the M&A sector (or financial world). That way I was able to get a better idea of ​​what kind of job I was looking for. Another thing I would definitely do is send a message to various companies (and especially Rembrandt of course) asking if they would like to drink a cup of coffee. I have now learned that companies, and especially Rembrandt, always make time for a cup of coffee with students/starters. This does not take much time, but it does help students/starters enormously to get a better idea of ​​what working at Rembrandt entails.