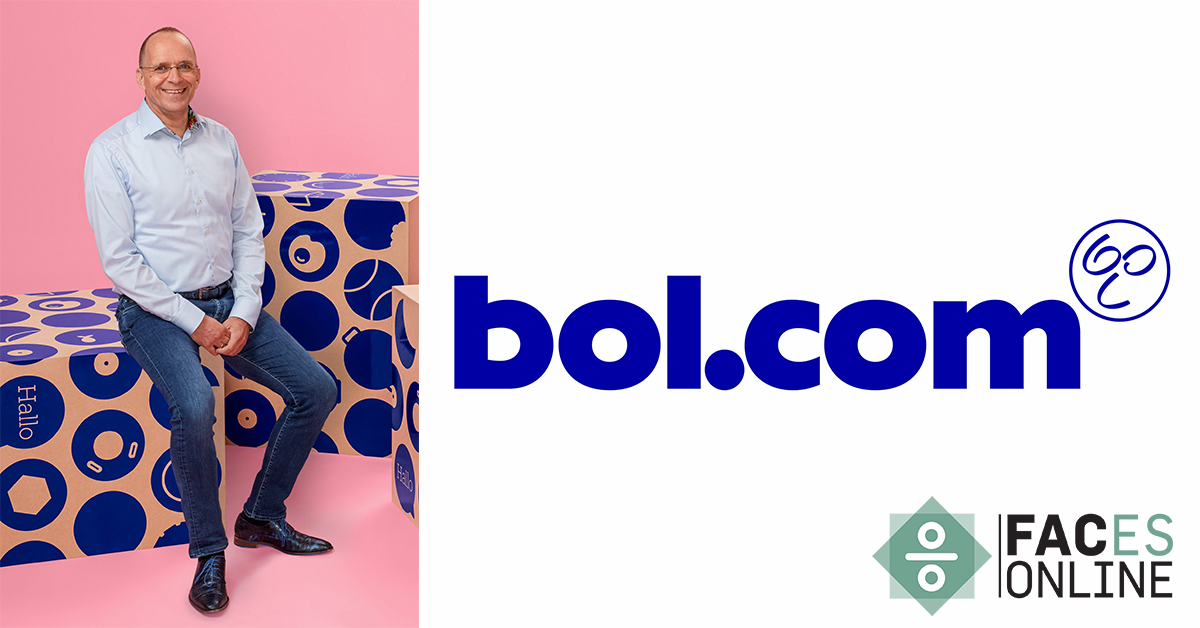 For the Dutch version, click here
With over twenty years of experience within the company, Huub Vermeulen stepped down as CEO of bol.com last November. In this article you can read more about Huub, his career, milestones and transfer.
Can you tell us about your study background and career?
As a young man I always had an affinity with technology. That's how I started studying electrical engineering. I soon found out that the programming part in particular suited me. You have to imagine that in this era the personal computer did not yet exist. In short, a nice challenge to work with computers. Because of my affinity with programming, I eventually started working at Philips. After a few years I switched from the large company Philips to a small company in Boxtel, where I sold complex technical projects to large companies. I liked this switch; a small company where people felt an affinity with the purpose of the company and where you can make your own contribution to its development. From here I started looking for a management-related position. I continued to grow at a secondment company for software employees and after some time I held the position of commercial director. In this position I have had both successes and setbacks. However, setbacks are inevitable and it makes you stronger both personally and professionally.
My next step was a position as operational director at a CD factory in Tilburg. As a company, we had discovered a new customer group within CD production and logistics, including bol.com. We saw a collaboration with bol.com as a great opportunity for growth, so we started a project for the logistics of bol.com in a garage. It soon turned into a large and successful project. At one point I became CEO of Docdata e-commerce fulfillment, now called Ingram Micro, after which I made the switch to bol.com itself after a year or two. It is great to see that the handful of Docdata employees has now grown into a large company with logistics activities throughout Europe. Also a fun fact about bol.com: twenty years ago about 20 people worked here, 3 of whom were logistics employees. The logistics department has now grown to more than 200 people and the total number of employees to approximately 2500 to 3000.
During my career I actually started working for smaller and smaller companies, and what did I notice? The smaller the company, the more fun I liked it. With small companies you are much closer to the soul of the company, which makes the connection with the business operations much stronger. My goal has always been to maintain the connection with the purpose of the company, despite the growth of bol.com. As an employee you have to feel that what you do matters and contributes to the purpose of the company.
In November you will stop as CEO at bol.com. What is your reason for resigning?
A few years ago I already said to those around me that after twenty years of employment it would be time to stop. This term has now expired, so I guess I have to surrender to it. I have to say that the CEO position of a growing company like bol.com is a very nice, but also a very intensive job. Therefore, I am now also ready to take a job in a somewhat freer role, in which I can expand my world further. I especially hope to take up a role in which my affinity with entrepreneurship can be expressed. What role this will be exactly, I'm not sure yet. For example, I think it would be cool to sit down with entrepreneurs, for example young innovative start-ups, and help them in the development of their company.
You have been working at bol.com for more than 20 years. How do you view the growth and development bol.com has gone through?
In her younger years bol.com started out as a physical bookseller. The sales range expanded to CDs, video tapes, etc., so that bol.com grew into the largest media store in the Netherlands in 2007. We are no longer purely a media store; but an online platform that sells pretty much anything. Bol.com has therefore made a gigantic transformation, in the field of assortment, from physical to online platform, and from retail to retail tech. Within this continuous growth, it is a challenge to maintain the culture and working method of bol.com. For example, we used to have a daily lunch where all 20 employees sat at the table together. After the lunch break everyone was up to speed on all developments. We now have more than 2500 employees, so it is a challenge to keep all employees connected to the company and to get them on board with the vision. A culture in which employees feel connected to each other and the business model is essential for a successful company.
This growth also requires bol.com to continuously reinvent itself. This actually makes us as a company some kind of business experiment. You have to continuously adapt to the size you have and to the type of company you are. Daily business operations therefore require continuous creativity and thinking. This makes working for bol.com very fun and challenging.
What have been personal milestones for you in your career at bol.com?
Growing from a start-up with 20 employees to a large developed retail tech company with a large group of motivated employees, I have been able to experience many milestones together with my colleagues. For example, I still remember the first 100 million euros in turnover, because we had officially passed the start-up phase. The acquisition of Ahold was also one to remember, as it coincided perfectly with our growth plan to expand our range to all product categories.
However, I don't see my role in this as unique because we all did it together. Of course I had my own goals when I held the position of CEO. For example, when I started as CEO, someone asked me: 'Huub, what will your legacy be as CEO of bol.com?'. It didn't take me much time to say: I wanted to contribute to the culture and way of working within bol.com. The success of bol.com depends on many factors, but an important one is our culture: a culture full of vibrant and powerful ideas, where we have the skills to bring these ideas together and focus on the right thing. How does such a culture arise? What you need is a group of people with small egos, who help each other, want to go for it together, and believe in the mission of bol.com. Inspiration and enthusiasm are important key points here. Employees who want to grow are given the confidence and responsibility for this. For example, a recent employee engagement survey showed that we as a company score high on entrepreneurship and culture. Such a result makes me proud, as it encompasses exactly what I have set out to achieve with my personal mission.
"A culture in which employees feel connected to each other and the business model is essential for a successful company."
How does bol.com deal with new competition, for example from Amazon?
Competition is always there and constantly changing. Ultimately, it is important to be aware of competition, learn from it and thereby strengthen your goal as a company. We have a goal and we are working towards it. For this, it is important what the consumer does and with it the competitor, of course, but the competitor should not lead you to decisions that do not suit the company. As a company you should not swerve too much, because this ultimately does not benefit success.
How does the transfer of the CEO position work?
This is a long journey. Early this year I decided to stop. However, I didn't want to announce this yet due to the corona crisis. In such a crisis, as CEO, you are actually the anchor of the company, so leaving during this difficult time would cause a lot of unrest. In the meantime, after consultation, my successor Margaret Versteden had already been appointed. Before the summer I announced my departure within my own team and after the summer this was communicated company-wide and in the media. In this period until my final resignation, I still retained my position, and Margaret thus still had sufficient time to read up on, familiarize herself and have the necessary conversations. After all, as a future CEO you need enough time to enrich yourself with all the necessary knowledge and contacts. In my view, the most important thing in this process is to communicate clearly and to give the new CEO room to integrate into the new position.
What would you like to pass on to current students?
The most important thing is and remains that you have to do what gives you energy. Even though I worked all day as CEO, I always enjoyed doing this. You can plan your career, focus on your pay scale or the title on your business card, but this is most likely not the most important thing that will stay with you at the end of your career. Personally, for example, I look back with pride on the beautiful group of people I have had the opportunity to work with, and not necessarily on the millions earned by bol.com.
All in all, you have a fantastic education that gives you a wide range of possibilities. I can only advise students to learn as much as possible, develop yourself in something that suits you and enjoy the people you work with. This way you will look back with a smile on your face at the end of your career.