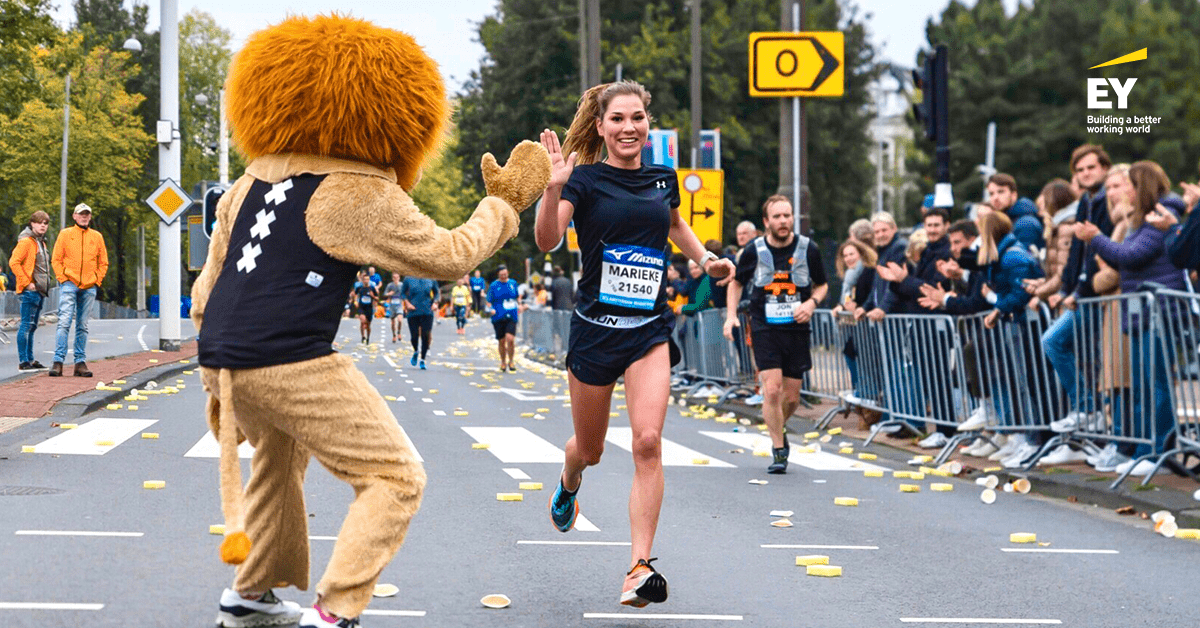 For the Dutch version, click here
Vitality is a theme that is often put high on the agenda within large organizations, but where people do not always have a clear picture of the concept. EY is one such firm where, alongside Tech, Diversity & Inclusiveness and Corporate Responsibility, Vitality is referred to as one of the four main focus points and where personal career development is central. We talked to Marieke Brouwers to find out how this theme manifests itself in practice.
Marieke Brouwers is Manager Audit at EY, but in November she also won the World Championship Duathlon! After 10 kilometers of running, 40 kilometers of cycling, and another 5 kilometers of running, she was not only the fastest of her age group but also the fastest overall. She traveled to Aviles (Spain) with the motto 'participating in a World Championship is more important than winning' and eventually took home the title of "World Champion". Something that had not even occurred to her beforehand.
Could you briefly share a bit about your career path and your current position within EY?
In 2014 I completed my Master's in Accountancy at Tilburg University and then started at EY Eindhoven in September. In the meantime, I have also obtained my Post-Master (RA) and I am a manager in the audit practice. During my first years, I served many different clients and gained experience in different sectors. In 2018 I worked in Tokyo for EY for six months, which was a hugely cool experience! Currently, I am working in the Amsterdam office where the biggest client in my client portfolio is one of the clients I served in Tokyo.
How do you manage to combine this busy job with everything else you do besides work?
One of the sayings I often make is "time, is priority". I really enjoy exercising and find that it makes me a better person. If I didn't prioritize sports, I'm sure it wouldn't benefit my performance at work. Especially in busy moments, I find it very important and nice to clear my head by exercising. Despite having a busy job, in my opinion, there is no such thing as a large number of hours in the week that you can arrange yourself. There are colleagues who find it relaxing to then sleep in, "Netflix" or have a family that they invest a lot of time in but draw energy from. I live with my boyfriend, have a rich social life, and a busy job but I can arrange my own time in such a way that I do exactly the things that I need and get energy from. Sports is one of them. 
What does a day in your life look like?
Actually, there is not really a standard day in my life. I train about 15 hours a week according to a schedule that I get from my coach. Each day is then indicated what I should do, which can vary from running to cycling to swimming or strength but also a combination of the aforementioned sports is quite possible. I always get this schedule on Thursday or Friday for the next week. However, I can indicate in advance if training on a particular day is not feasible because, for example, there are deadlines for work or client appointments outside the door. Also for work, I know what needs to be done each week. Based on this, I plan my week on Friday with a combination of work and sports. Of course, this is not set in stone but it gives me peace of mind that I basically don't have to think about it anymore.
"Within an organization like EY everything is possible, as long as you communicate clearly about it and indicate what you need."
Today, for example, I was at the gym at 7, was showered, and sat behind the laptop at 8:30. I will go for an hour run as soon as it gets dark and have to answer some emails after dinner. Tomorrow I go to the office and there is a 2-hour bike ride scheduled as training. So then I'll try to get to the office nice and early so I'm not home too late to eat, let that sink in, and then get on the Tacx (indoor bike) to do my workout.
What does the theme of 'vitality in the workplace' mean to you?
In my opinion, vitality in the workplace is the right balance between work and other things that are important to you. Personally, I get a lot of energy from my work, but if I only worked that would no longer be the case. The balance you need between work and home is, in my opinion, important to be a happy person. Only when you are happy and pleased with yourself can you get the best out of yourself and others. So when my colleagues have found this right balance they can get the best out of themselves and other teammates and deliver the energy at work that they deserve. In my eyes you are then "vital" or "fit for the job".  For me personally, that is clearly sport and my social life, but there is no right or wrong here. Vitality in my eyes is therefore not directly related to sport.
Why do you think this theme is so important?
This theme is especially important in order to realize that more is not always better. Many people have the impression that the Big-4 firms are all about working long hours, but that is not the case at all. I also try to communicate clearly to my teams that balance is very important. For example, I would rather have a staff or senior indicate that he needs to do something for himself and is productive for 8 hours and recharges himself than work 10 hours but is only productive for 6. When someone is comfortable in their own skin they can function better which improves quality. It is up to each person to determine what the right balance is and what is important for her/him to do next to work. 
Do you feel that vitality has become more important over the years?
I think we've become more open about it. This also goes hand in hand with the Corona developments. Now that we work from home I sometimes choose to cycle during the day as this is not possible in the dark and I still like it better than on the Tacx. When I start exercising, I indicate this clearly to my colleagues so that they know I will not be available for a while. Since my colleagues know that I compensate for the work I don't do during the day by going out in the evening, I notice that they fully understand this, moreover they know that an hour of cycling does me good and benefits my work performance. Before, exercising during the day was not an option if you were working at the client's premises. Thanks to Corona, the work-life balance has perhaps become a little less arbitrary so that you are more likely to discuss it with your colleagues.  
A common argument is that the workload within accountancy is high and that it is, therefore, difficult to combine this with other ambitions. How do you see this?
As I have already indicated in an earlier answer, in my view there is no such thing as no hours left to do something for yourself in addition to a job. Of course, we don't have a 9 to 5 job and there are periods when you have to leave something for work. On the other hand, there are also periods when things are quieter. When you plan your time well, not only at work but also in your private life, there should be enough time left over for what you find important and where you get energy from. Personally, I think I do well at work because I also give priority to the things that are very important to me, besides work. If there were no time for these things, I would experience work pressure and that is not the case now.
What tips would you give to students or starters with ambitions besides their field of work?
Within an organization like EY everything is possible, as long as you communicate clearly about it and indicate what you need. That doesn't just apply to a topic like vitality, but also to other opportunities such as working abroad. I also believe that you are capable of much more than you think you are, as long as you believe in yourself and pursue your goals with conviction. Go for it!