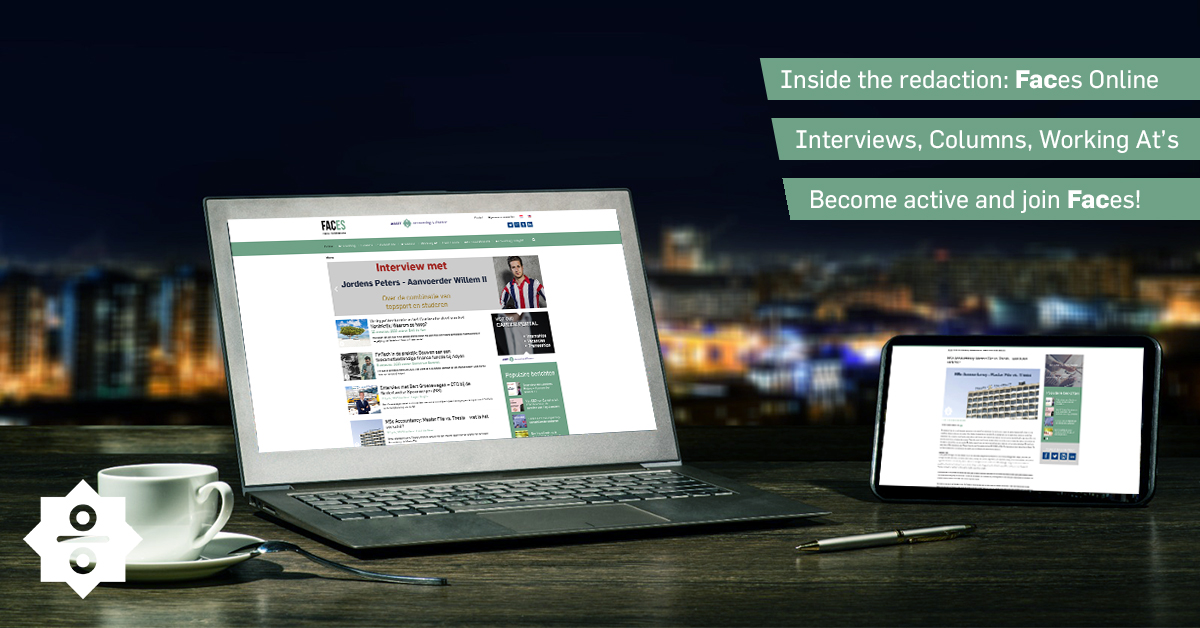 Forthe Dutch version, click here
Faces Online is the online platform of Asset | Accounting & Finance (A&F). Every week, an article, column, or interview is published on this platform in the field of accountancy, finance, or student life by the enthusiastic editors of Faces Online. As an editor of Faces Online, you are also a direct active member of A&F where you can participate in both formal and informal activities together with fellow students. These formal activities mainly focus on the business world within Accountancy and Finance. Activities like these provide a great opportunity to get in touch with potential employers. The informal activities revolve around having fun with your fellow students, which can be in the form of a drink or activity. In this article, several members of the Faces committee talk about their experiences within the committee and at A&F.
Boris de Bie – Editor
I joined the Faces Online committee in September 2019. My main reason for joining was to grab the opportunity to write articles using my academic knowledge. Besides, Faces Online seemed like the perfect platform to interview important people in the business world in industries of my personal interest. In the past year, I took this opportunity and interviewed inspiring people such as Tiny Sanders – ex CEO of PSV, and Jordens Peters – captain of Willem II. Furthermore, together with my fellow committee members, I wrote multiple articles relevant to the current news. COVID-19 had a significant impact on the global economy. This gave us, editors of Faces Online, the opportunity to analyze this situation and process this in different articles. Faces Online consists of a fun group of students who, besides writing articles, also like to drink a beer together every now and then at, for example, the events of Asset | Accounting & Finance.
Emil de Veer – Chairman and Editor
Ever since September 2016, I have been an active member at Asset | Accounting & Finance (A&F). For my final year at A&F, I thought that it would be nice to join the Faces Online committee. What I found particularly interesting at Faces Online was to develop my writing skills by researching issues within my field of interest. As Chairman, my task was to lead the committee, but also to write articles and columns. For example, in the past semester I have written an article on Auditing in the Caribbean, but also on how Accountancy students at Tilburg University have experienced the new thesis. Furthermore, I experienced that informal activities are also one of the most enjoyable events at A&F, with an emphasis on the drinks, cantusses, and city trips. Hence, at A&F you make friends for life and at the same time, you also develop yourself within the framework of multiple skills!
Louk de Loijer – Editor
I have been a member of Asset | Accounting & Finance (A&F) since January 2019 and joined Faces Online in February 2020. What appealed to me about Faces Online back then was that I could improve my writing skills in a fun way. I now understand that Faces Online has a lot more to offer than just the improvement of your writing skills. Personally, I am responsible for the banners and thumbnails of the articles and my photoshop skills have improved a lot as a result. Next to writing articles, other daily activities of Faces members are translating, reviewing, and publishing articles. Since January this year, I started with the master Data Science and Entrepreneurship. I, therefore, do not study in the field of Accounting or Finance, where the platform is focused on. Nevertheless, I am convinced that at Faces you can gain valuable experience regardless of your field of study. Moreover, you are given the freedom to immerse yourself in subjects that you find interesting. This year I wrote about the impact of COVID-19 and I am currently analyzing the influence of artificial intelligence on the accountancy sector. Besides the formal side of Faces, the informal side has certainly been a reason for me to join this committee as well. There is a relaxed atmosphere within the group and we try to schedule a nice activity a couple of times every semester. Furthermore, we are regularly present at A&F's drinks, cantusses, and other activities!
Sem van den Berg – Editor
In January 2018 I had made the choice to join Asset | Accounting & Finance (A&F). At that time, I was currently still finishing off my Bachelor's. In September 2019 I started my Master in Finance. At the beginning of 2020, I joined Faces Online because it was a perfect way for me to use my knowledge that I gained during my Master's to write articles. Articles about current developments in the field of Finance catch my interest the most. For example, I wrote an article about High Frequency Trading during COVID-19. Besides writing articles, I also work together with Zeger on the Social Media of Faces Online, Instagram in particular. Besides working on serious articles there is a very informal atmosphere within the committee. This informal atmosphere can also be found within the association. The drinks & day trips with both the committee and A&F give you the opportunity to get to know new students!
We are looking for new editors!
Did this article excite you and do you think it would be fun to become an editor of Faces Online? Don't hesitate to contact us via info@asset-accountingfinance.nl