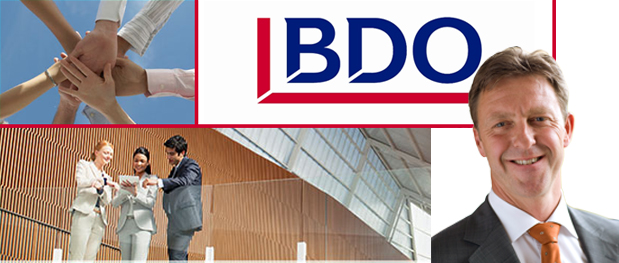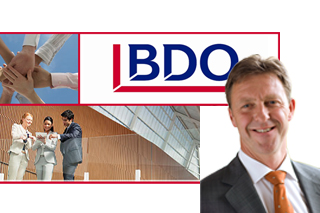 In this interview Reinder Brummelman, chairman of the Board of Directors of BDO, shares his career experiences with us; he talks about the first time he came in touch with fraud, what he has learned from his diverse roles within BDO and what he would have done differently in hindsight. Furthermore he shares his views on the development of the accounting sector.
Can you tell us something about yourself, your education and your career?
Born in Amsterdam and lived in and around the city till then, married, two sons and a dog. After my high school period I served the, at that time compulsory, miltary service. It gave me the opportunity to consider thoroughly what to do next. My conclusion was that it had to be a combination of working and studying. That was when accountancy caught my eye, it was a great opportunity to attend the Nivra education. Since I had no prior knowledge of accounting, as I chose a technical direction in my high school studies, I prepared myself for the next phase by obtaining several certificates in accounting by taking evening courses. The next step was starting at KPMG as a NBA student. After graduation I enjoyed the accountancy subject so much that I taught control principles for the NBA.
How did you end up at BDO?
After working for KPMG for 7 years I wanted something different and was interested in family-owned businesses for several reasons. The entrepreneurship of those clients and the greater range of important aspects next to regular auditing that come along with this (like succession within the family) appealed to me. So all in all I was interested in this market segment and BDO was an important player in it, offering great career opportunities.
 You have functioned as an accountant, office manager, regional manager, member and the last 5 years chairman of the Dutch BDO board and member of the international Board of BDO. What has been the most important thing you have learned in these functions?
All of these consecutive jobs have had a different approach and I sought the challenge in each one of them.
As an accountant you are quite involved with the clients. This was the professional role I had chosen for; the position of independent professional contributing to proper financial reporting in combination with being a trusted advisor for clients. It is an appreciated role in which you learn that there are so many different perspectives.
A managing role, especially in an organization of professionals, can be challenging. You are one of the professionals, chosen to play a managerial role without being different. A real challenge is the self-opinionated character of a professional.  As that is not enough, nowadays the accountancy profession has more and more stakeholders that interfere with the business. Supervisors, society, politics, regulators, everybody has an opinion.
What I have learned is that it comes down to proper communication. Communicate clearly about what you do but also what you don't do.
What would have you done differently in your career in hindsight?
If I could start over I would have worked two to four years abroad. With the international clients as well as in my roll as a member of the global board of BDO I see what happens in other countries and the differences between each one (rules, culture etc.). I believe that I would have benefited more if I had seen this earlier in my career. This would have helped me to see the situation in The Netherlands from a different perspective.
What is BDO's position in the market and is it benefiting from the rotation law?
BDO divides their client into three groups: corporate clients, the public sector and family owned businesses.
The family owned business division is our core business for which an accountant services clients together with an (tax) advisor. Without knowing the tax structure of the company and the tax position of the main shareholder it is hardly impossible to carry out your audit. To cater to the obligation to change the signing auditor within the firm we had to reorganize our business in a way that larger audit practices are formed. Only than it was possible to make a good match between clients and auditors with their teams.
For the listed companies the rotation law obliges to change audit firms.  We see a lot of chances in the public sector that is starting to implement the rotation as well. Especially in this market segment BDO is benefitting.  In the corporate clients market our main wins are on advisory, since the law prohibits functioning as an auditor and advisor simultaneously.
Can you describe the first time you came across a fraud related issue and how you have dealt with it?
My first experience with fraud was quite a while ago but you don't forget something like that quickly.  I came across something that I didn't fully understood. Since I was still a junior assistant at that time, I first thought I made an accounting mistake. Finally I became suspicious, dug deeper into it and looked at it with my supervisor. We brought it to the attention of the partner who subsequently contacted the client, the fraudster and the police. It made me even more conscious that auditing isn't just checking whether the rules are being applied correctly. It emphasized the importance of analyzing the individual accounts thoroughly and adopting a professional critical attitude since big frauds can be discovered in the small details.
What does a normal workweek look like for you?
An important part of my job is to maintain contact with our client. Not regarding the audit itself but regarding our overall service performance. The service delivery is what makes BDO different form others. It is my believe that high service is an excellent supporter to an independent position as auditor or a substantive role as tax advisor.
There are, naturally of meetings I have to attend across the 27 different offices of BDO throughout the country. My work also varies depending on the season; in certain periods I go on business trips in my role of member of the Board of BDO International. In other periods I spend a lot of time preparing for shareholder meetings in The Netherland. From time to time I write a blog on our internal page upon which our employees regularly respond, in this way I can to keep in touch with them in an informal way.
Which decisions end up at the Board of Directors?
The BDO partner makes as many decisions as possible, however some decisions have to go through the Board. An example of an important decision is choosing a new office location or appointing a new partner. BDO is a partner organization; this means that the partners of BDO are the shareholders of the company. The Board proposes a partner that subsequently is designated officially at the meeting of shareholders. As it often is the case, the appropriate candidate has already been elaborately researched and as such, the meeting of the shareholder is the formal approval.
The decisions made by the local partners and the sub-boards of each service line are based on a planning and control cycle. This cycle is announced yearly by the Board of Directors at the meeting of shareholders. At the end of each year, the Board of Directors evaluate whether everything has been achieved according to the planning schedule.
As chairman of the Board of Directors you have to deal with many individuals each with their own view on various matters. How is the final decision made and how do you lead this decision-making process?
BDO has 160 partners, each with their own opinion, so there indeed is a great variety of ideas. The key to lead decisions on the right track is communication. Several questions have to be asked, for example 'where do we want to go' and 'how are we going to do this?' To make good decisions, it is essential to hear what other colleagues have to say and discuss these opinions, to get everyone rowing in the same direction. However the Board of Directors cannot carry out all opinions. Before making an ultimate decision it is important to explain why this decision is being made. If big changes occur it is important that they are implemented gradually, this happens for example through workshops or trainings that contribute to the change.
It is very important that everyone gets the opportunity to state his or her opinion. To stimulate this, it is essential that the culture is such that anyone feels and really can contribute their input.
What is your view on the report 'in het publiek belang'?
It is certainly necessary that measures are taken. The profession has not reacted quickly enough on the changing economic reality of the last decade. The challenge of today is that there are so many stakeholders having an opinion on what is needed. We end up with very concrete regulation of with the report 'in het publiek belang' is one of them. For restoring trust in the profession it is needed to give some time to adopt the new rules of the game.
During my education I learned to act with 'high respect of the profession'. There was not very much more to say; you knew what to do. It is my believe that a principle based regulation is a strong bridge to the trusted position an auditor needed to have to fulfill his/her task.
What changes would you like to see in the sector?
It is important for the whole sector to regain public confidence. BDO takes the lead to accelerate the implementation of the required culture change in the profession. In response to the report 'in publiek belang' BDO opened a course at Nyenrode named, Partner Leadership Development Program. The course is meant for audit partners and senior auditors and is aimed at clarifying the impact of their own behavior on the company culture.
For the sector as a whole it is recommended to have a more balanced spread of audit firms. It will enhance the competition on quality and can avoid independence problems. Nonetheless, a change like this will not occur without intervention.
How do you see the future of the accountancy sector and will the digitalization have an impact on this future?
The increasing computerization and digitalization do not diminish the role of the accountant. Accountancy will continue to exist; it is imperative that financial information that flows through markets is examined by independent professionals.  So I see the future of the sector 'rosy'. The sector has to embrace this phase and has to regain confidence. 
What advice do you want to give to our students?
Make sure that if you have just started your job that the quality of your work is good. Quality counts over quantity. It is also very important that after a fairly broad orientation you specialize in what you excel at. Then you can really add value to the company.