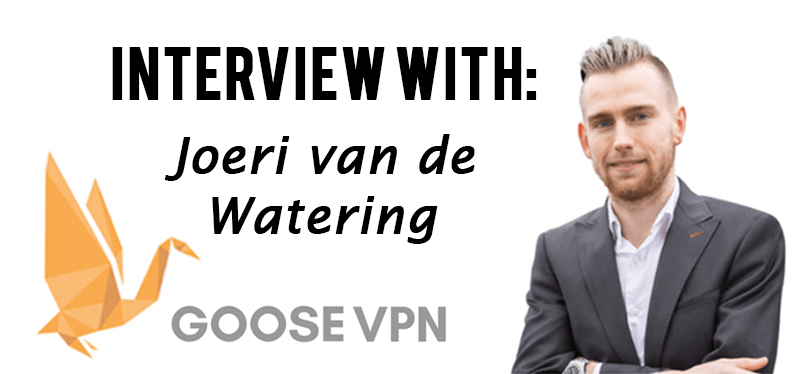 On June 8 we, Rob Donkers and Roel Elissen, spoke with Joeri van de Watering. Joeri is a 26-years old entrepreneur, whose firms are located in Rotterdam. Joeri is not the common entrepreneur. His enthusiasm is noticeable in everything he does, and he already established a company on his name on a young age. Besides his online marketing office, he recently founded a VPN service with which he wants to take over the world market. Read more about Joeri, his entrepreneurship and his firms.
Who is Joeri van de Watering?
Joeri is an entrepreneur in heart and soul. How can you tell if you are an entrepreneur? You feel it. "After a few days of vacation, I already feel an urge to start working again." At 18 years of age, Joeri started the study International Business Administration at the University of Tilburg. Next to his study, making websites was his hobby. He founded the online marketing agency Dutch Blue. Dutch blue grew to a serious company and Joeri could no longer handle all the work on his own. Two years after Dutch Blue was founded, he sold a part of it to an investor, who is now his entrepreneurial business partner. Since selling Dutch Blue, the company grew and more people started working there. Next to Dutch Blue, Joeri was involved in helping setting up another company together owned by his business partner. It is a trainings centre for the maritime and offshore sector, located on Schiphol. This company organises safety training for people that were heading to drilling platforms and other such destinations. This turned out to be a very potent market because the competition was working with outdated systems. With only a fraction of the manpower of the competitors, this venture became an important player within four years.
"He already has ideas for new companies ready to be worked out."
Goose VPN
Goose VPN is a Dutch VPN service that has been online since November 2016. A VPN service offers internet-users a way to hide their IP-address and also pretend to be in another place. This opens up things like accessing websites that are only available in the Netherlands from a foreign country, or circumventing internet censorship. By now Goose VPN is a fast-growing internet company with Joeri behind the steering wheel. Ten years ago Joeri's business partner already tried to start a VPN service, but the market was not ready yet. Now, in a more developed online world where internet security and anonymity online are in the centre of attention, there is a place in the market for a good VPN service. After collecting a million euros of investments through an investment company, the VPN service was developed and it is already online.
Why a VPN Service?
Anonymity and security on the internet are a hot topic. From Russian hacks to ransomware, it has never had more attention. A way to secure your online activities are by hiding your IP-address through a VPN network. Before Goose VPN became online there were already other players on the Dutch market. "The other services are needlessly complicated, customer-unfriendly and mostly only available in foreign languages. There had to be a better way" according to Joeri. In times where countries like Turkey block social media, organisations like Stichting BREIN threaten fines for downloading movies, VPN services are important. If all there is to offer is a range of companies that doesn't listen to its customers and offers a service where even an online veteran has problems using it, there is space for a company that does better. Critical thoughts from the movie industry do not concern Joeri. "The movie industry is outdated. Years ago, downloading music was the most normal thing in the world, but the industry innovated and with services like Spotify, it has gotten a new life. The movie industry also needs some major changes."
Do you have any short-term plans?
Since VPN Goose went online in November 2016 there are more than 10,000 paying users. With this customer base, the company already operates at least break-even, but probably makes a profit. 1 Million has already been invested in Goose, which they used to build a network in the Netherlands. Joeri is a lot more ambitious than that though. VPN Goose has the potential to be the largest VPN-provider in the world. This is not unrealistic: "There are a few big players on the market, but they have been around for years and are no longer innovative; they don't listen to their customers." Goose VPN has a motto: 'Help your customers like you would want to be helped yourself'. With this mind set they want to conquer the world market. The big plans are already gaining ground. Joeri told us there is an American company with over 100 million users that is interested in VPN Goose.
What does the future bring?
Joeri is only 26 years old and has already founded multiple companies. We asked him if he has ideas for other companies already. The answer we got barely surprised us. He already has ideas for new companies ready to be worked out. Preferably he would only work on the early phases of new companies, after which he can transfer the responsibilities to his personnel so he can work on something new again. We asked why his companies are successful. "My business partner is a 50 year old seasoned investor. I'm young and enthusiastic, just like my personnel. Young people can get too eager. If this happens, my partner steps in". This creates a balance and it has worked well so far"
"Help your customers like you would want to be helped yourself and show courage."
How do you discover a market opportunity?
"Who looks for them, doesn't find them" Joeri tells us. An important skill is recognizing faults in a market. Using experience from other branches in a new environment can get you an advantage. Joeri used his experience from the marketing company Dutch Blue to help conquer the off-shore safety-training market. "You either are an entrepreneur or you are not, but you also have to show courage and be able to focus yourself." A lot of companies disregard the opinions of their customers. By doing the opposite, you can get a competitive advantage. To illustrate: "Try calling the helpdesk of large corporations like Ziggo or KPN. I guarantee you, you are in for a lot of frustration." Joeri motivates his personnel by asking them to add at least one new fan a day to their brand. A fan is someone that has been helped above their expectation with a problem or a question "A customer is important to a company. Customers bring in revenues, but fans make a company grow. They are the best marketing tool out there." Coolblue, with their slogan "everything for your smile" is an example that this strategy works, also on a large scale.
Also want to be an entrepreneur? Here are some tips from Joeri.
As an entrepreneur you have to give 200% towards your goals. Help your customers like you would want to be helped yourself and show courage. The most important thing is to have passion for your profession. This will take you to the moon and back!