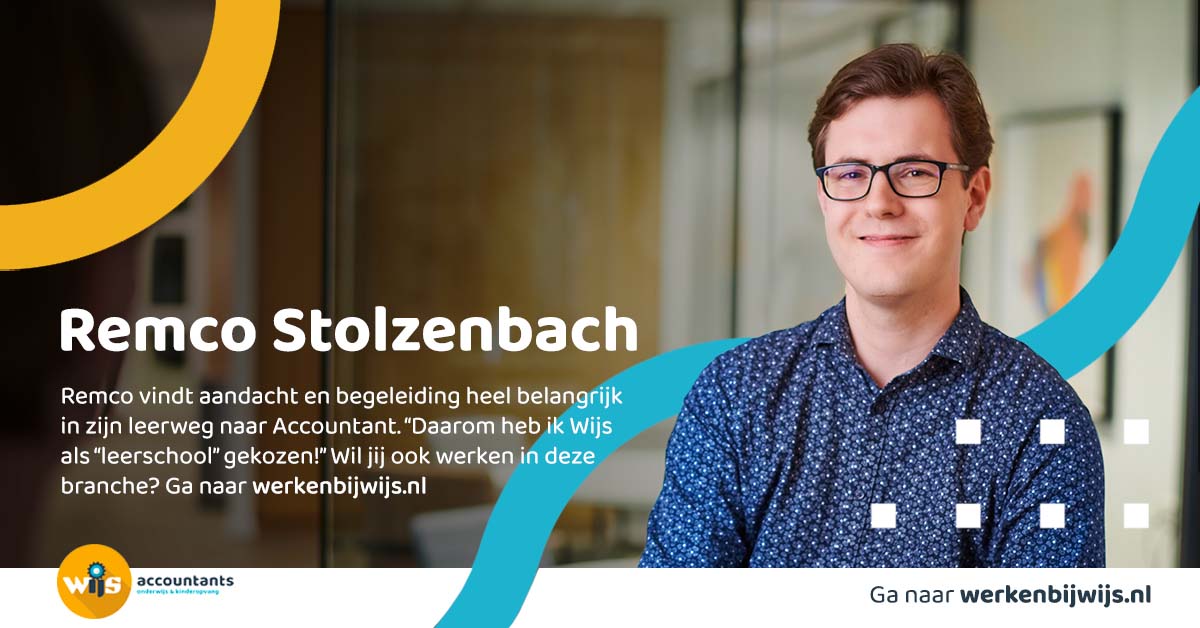 Wijs specializes in auditing the financial data of various educational organizations and in providing advice. Their structure is characterized by an informal atmosphere and by paying attention to the employee. Faces visited the office and spoke with Remco Stolzenbach about how he experiences his work at Wijs.
Who are you and how did you end up at Wijs?
I'm Remco Stolzenbach, 24 years old and I'm completing my bachelor's degree in business economics at Tilburg University. I also work out at the gym and am writing my thesis on CSR-based compensation. I ended up at Wijs via Asset. I had some delay during my studies and was looking for a job to gain relevant work experience. I chose accountancy because I find it interesting to learn what happens behind the scenes at companies. I came across Wijs on the Tilburg Career platform. After consulting the website and sending a message, I received a call back within 5 minutes.
Why specifically Wijs?
I have always found education interesting and therefore have a connection with the Wijs client portfolio. In addition, I was curious about what the work at a specialized firm entails. I like the interface with society and think it is nice that I can contribute to that. I was looking for an office where I could work for a whole year and Wijs was very thoughtful in giving me that opportunity. What struck me immediately during the interview was that Wijs pays attention to its employees. For example, despite Covid, there was a free spot for me in the office. This helped me find my way around and get to know my colleagues.
"At Wijs, we believe that a good work-life balance is important."
What does your day look like?
Every day is different, depending on what the schedule looks like. Each week I am scheduled for 1 or 2 customers in teams of 2-5 people. Wijs focuses on audits within the education sector. The clients I work with are primary education, secondary education, childcare institutions and collaborative organizations.  Activities vary from annual audits, budget audits – in which we check funds that school boards receive from the government – to benchmarking and tasks in the area of legislation and regulations. I have a broad range of tasks and deal with several items in the annual accounts. At Wijs, we believe that a good work-life balance is important. That's why I don't have to work overtime and can just pack up my things at 5 o'clock. I really like the fact that when I'm home, I don't have to think about work and can focus completely on my thesis.
How would you describe the atmosphere at Wijs?
Easy-going, you can always join someone for a chat. We are a relatively small office without a hierarchical structure. As a result, the atmosphere is informal, light-hearted and we are well-informed about how each other is doing. During lunch, we tell each other what keeps us busy outside work. Wijs also organizes various activities. There's a skiing holiday, a staff outing and a Christmas dinner. During the staff outing, we went off-road and took a skidding course. Drinks are also organized at the office. Every season ends with a party.
How does Wijs give you the opportunity to grow?
When I came here, I was immediately assigned a supervisor to whom I could ask my questions. When I started, she and my colleagues made sure that I was quickly up to date and could get to work. Internal courses are organized for new activities, so that everyone knows what we are doing. If I have a problem, I can always bring it up with the project leader.
How do you experience the combination work/study?
I like the combination of work and study. During the first six months that I worked at Wijs, I also took some courses and worked three days. Now, I only have to focus on my thesis and I also work 4 days. Just like me, Wijs also thinks it's important that I succeed in my studies, so if I need more time for school, this is always possible after consultation.
What advice would you give to students?
The choice of a workplace is personal. Some people find it important to work at a large office for large clients, while others find the atmosphere on the work floor and a good work-life balance important. I think it is important to do something of social importance, which is one of the reasons why I chose Wijs.