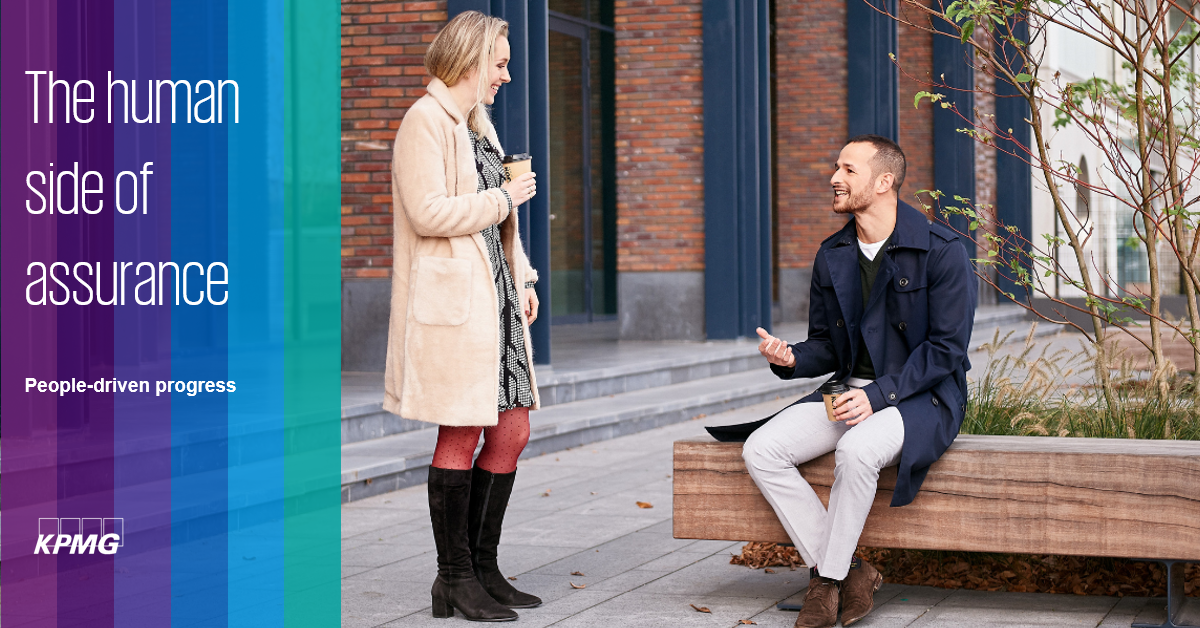 Who are you and what is your position at KPMG?
I am Ester Louwers, 46 years old and I have been working at KPMG all my life. After my studies I started at the Eindhoven office as an audit trainee and I am now a partner at the Eindhoven office, also in audit. My clients are mainly the Dutch branches of American companies. These can be private, but also listed companies.  In listed companies we also have to deal with the SEC and stock frameworks, so in that capacity I also have the US accreditation. With us, that means you have to have more specialist knowledge to be allowed to do that kind of audit. In addition, I am also responsible for HR in our office. We have 110 employees on the audit that I am responsible for in terms of HR…. In addition, I also have to make sure that our talents stay with us. This gives me a lot of energy and I really enjoy it. I am also married, live in Eindhoven and have two children. I also like to make music, I try to play the guitar. And I try to do sports, I run and spin. I also spend a lot of time with the children and every now and then I go out for a drink or a bite to eat with friends.
Besides Eindhoven I also worked in Madrid for 2 years. I was a young manager and wanted to spread my wings. I had a big client in the Netherlands who was also active in Spain, they could use some help. I moved to Spain with my husband and we lived there for 2 years. It was a really nice time over there. 
Why did you choose KPMG then, and not a small firm?
I've always had trouble making a very specific choice. Working at a Big Four gave the opportunity to study further, think of getting the post master. Working at a large international firm also gave me the opportunity to go abroad, which becomes difficult at a smaller firm. If you start at a large firm, you have somewhat broader possibilities. It does have to suit you a bit, I was extremely driven, ambitious and wanted to see something of the world. Then I think a bigger firm suits you better.
When I look at the clients we have, we at KPMG are very diverse. For example, we have the larger SME companies, such as Bavaria and Van Haren shoes. We also have companies that often operate internationally and are listed on the stock exchange. Examples are ASML and DSM. But we also do start-ups like Lightyear. We also have non-profit organizations as clients, such as universities, colleges and the healthcare sector. 
"We  put the human factor on one"
Why KPMG and no other Big Four firm?
During my studies, I did my homework. I also participated in business courses and in-house days at Deloitte and PwC. Nice firms, but conversations at KPMG felt just a bit different to me. Mainly go talk to the companies, participate in activities that are organized and see where you feel most at home. What distinguishes KPMG the most is that we (KPMG) are a human company, we put the human factor on one. You always have to be open and honest, of course we are a professional company where we really expect something from our people and if people don't meet that, you as a company have to be open and honest and give feedback. But this is always done in a respectful way. What can happen is that you notice that someone is not quite in his or her place and that perhaps KPMG is no longer the best employer for that person. We start a conversation with this person and try to find out together what really suits him/her and we really offer some guidance in this. We do not drop anyone, we will not fire someone who does not meet our expectations. We always lead someone to a new job. With that, our human factor is paramount.
So you're not a 'number' at a Big Four firm?
No, absolutely not. Sure, we have an employee number, but you always have to deal with the people you work with in your office. They also assess you and you have conversations with them about your development. They also look at what is best for you.
In general, what are your daily activities?
I take the kids to school several times a week. Then I leave for work, either to clients, the office or just at home. We always start the day with our daily's, which are short meetings with the team where we discuss what our objectives are for the period we are monitoring. Then the team knows what the objectives are and what they can work on. After that, I have a number of meetings with the team, clients, specialists on specific topics and also talks with employees from my HR role. We have four offices within our region and run KPMG in the region south from a regional perspective. So you have regular contact with HR partners at the other offices as well.
I also have lunch with my team or with clients. In the evening I go home again, have dinner with the family and then possibly sports. So it's very varied.
Is the work pressure high at KPMG?
At KPMG we have set up a work-life balance project. That is about finding the right balance. Large offices are known for high work pressure with a lot of overtime. So what we have done are those dailys to discuss with the team how we are going to work together. This is also where we discuss when we might work overtime. This way everyone knows far in advance when overtime might be needed. It's not the case that you never have to work overtime at KPMG; it's part of the job. But it is certainly not the norm, absolutely not.
What is the atmosphere like?
Companies like ASML work with very strict deadlines that we have to meet. During a six-week period, we often work on Saturdays at the office. But the people you work with for such a client are prepared for this and are very motivated and driven to work with such a large company. But once the deadline has been met, there is a big party. The team spirit that prevails within such a team makes it fantastic to be part of it.
In what area have you grown the most?
I think mainly in leadership. I was, of course, half a student when I entered the profession. Of course you know a few things from your studies, but that is mainly theoretical. But there are still many things you have to learn, such as working together. What I am proud of is that I have learned to know myself better, that I am quite successful in working effectively with my teams and in motivating them. And to create an atmosphere where everyone feels comfortable.
How has KPMG helped you in this?
After having the necessary experience you become a manager and then you have to manage several assignments at the same time. If you really like the audit, you also become a partner and then you are really responsible for a client portfolio and to bind clients. So this growth is a natural process, but of course you receive training. For example, we have a leadership program in which your leadership skills are developed. That means you go out for a few days under the guidance of training experts and psychologists to improve this skill. So it's mainly the combination of the time you spend with the client but definitely the training that KPMG offers.
Do you have any advice for students?
Go and have a lot of conversations with people from different firms. That way you can see whether or not there is a click with a particular firm. Furthermore, it is important to always remain yourself, which does not mean that you should not be open to new things. In both your personal and professional life of course a lot is going to happen, always look at this with an open mind. For example, I have always seized all opportunities that came my way. For what is the worst thing that can happen, that once something will be disappointing. But how bad is that? In the end, you learn from it. So never be afraid to jump into the deep end, because you will surface anyway.