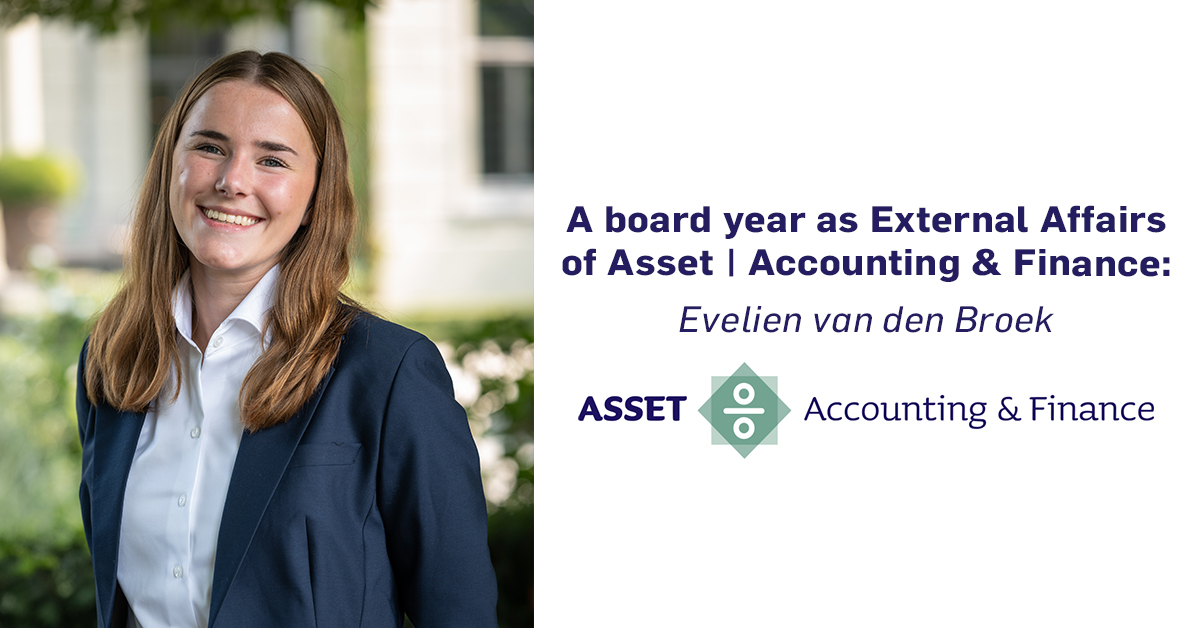 For the Dutch version, click here
As External Affairs of Asset | Accounting & Finance, I am responsible for the contact with new and current partners, social media, the Banking Days, and the coordination of the Financial Business Dinner and the Finance Expedition. Read more about my experiences in this article! 
A board year: yes or no?
I often doubted during my bachelor's to do a board year. In my opinion, a board year had many advantages, but also many disadvantages. You would get to know a lot of people, develop yourself on different levels and continue to lead an association. On the other hand, I could be a lot less present at soccer practices, meet up with my friends less often, and perhaps even gain some pounds. 
I decided to start with my master's degree in Accountancy and soon realized that I was far from done with my student life. I personally wasn't ready to start working within a year. I have been involved in Asset | Accounting & Finance since the second year of my bachelor program. The big advantage was that the association applies a Board change every six months, so I decided to go for a board year after all.
How was the beginning of my board year?
During my induction period, I learned a lot of new things, not only about the course of events but also about the association and how much work my predecessors had put into it. As a committee member, I looked at this in a very different way and found it difficult to understand what a board member does all day. Even as a current board member, I find this difficult to explain exactly. I have a few main tasks, such as running acquisition, maintaining contact with partners, and coordinating committees. In addition, there are a lot of small changing tasks every week. These can consist of creating social media designs and contracts one week and meeting with other departments and writing policies the next week. 
In the beginning, I learned a lot from the current board members. Besides that, we worked with each other at our office, so we quickly bonded. Unfortunately, this pleasant period did not last long. Since the COVID-19 outbreak in March, we had to work from home. The first weeks were doable, but after a few extensions from the government, it started to look gloomy. The entire day I was in my student room, where I slept, worked and ate. My motivation dropped further and further and I started to ask myself if I had not made the wrong choice. 
The corona period lasted longer and longer. Although we got used to online communication, I found online drinks more and more boring. If I had spoken to someone physically, I was a lot happier that day. Within the Board, we tried to keep up the communication and learned how to make the corona period more fun. We came up with new online events and tried, as much as we could, to meet physically. During the summer conversations with partners, I was even allowed to visit a lot of companies in their office and each time I took someone else from the Board with me. The fun time, like at the beginning of my board year, started coming back.
Slowly but surely it was time to look for new board members. A new subject we had to worry about. Do people in these times really want to do a board year? Fortunately, we found three very nice new and unknowing board members. Now it was our task to hand over everything as well as possible and explain the course of events to the newcomers. It was nice to get some new energy and new opinions within the Board. Every person works in his or her own way and by applying a half-yearly change, you learn that everyone looks different to certain things and tackles things in a different way. 
"It was one of the most unique board years in the history of the association."
What is my biggest learning moment? 
Actually, my whole board year is a great learning moment. Amongst other things, you learn to think carefully about the consequences of your decisions, to form your own critical opinion, and how you can give negative feedback in a positive way. Furthermore, I have learned to switch very quickly and to look creatively for solutions. An example of this is the Financial Business Dinner. The situation was constantly changing prior to the event due to the stricter measures. Therefore, we constantly had to switch to a new concept. We had many setbacks, but in the end, we managed to create a fully corona proof event, on which we only received positive feedback. 
What did I miss in my board year? 
What I missed the most in my board year is making contact with other board members. Because almost everything had to take place online and physical get-togethers were not possible, you hardly got to know other board members. Often you know who's who, but you hardly get to know them well. You don't see them at drinks, in the board offices, or randomly in the city, so you don't build up fun stories together. This doesn't mean that this hasn't happened at all. When we were allowed to do a little more in summer, we had several constitution drinks and dates with other Boards. This created a better bond between the different Boards of the departments.
What am I most proud of? 
First of all, I am proud of how our active members have dealt with the Board's decisions. Many have been active at Asset | Accounting & Finance for a number of years and know what is normally organized and how things are done. We had to come up with other activities this year, meetings had to be held online, which is a lot less fun, and active members couldn't just walk in to have a chat. So, there is a bigger gap between the active members, but also within the Board. I also think that my fellow board members handled this very well and I am proud of every event we have created, to get the most out of this year!
Am I regretting that I have chosen a board year? 
I started my board year when COVID-19 wasn't an issue and I hadn't counted on it at all. In the end, it was one of the most unique board years in the history of the association. We had to make choices that our predecessors never had to make. Because of this, you learn to think from different perspectives and to take a risk every now and then. You learn a lot of things that you cannot learn during your studies, internship, or work. Despite the fact that my year has turned out completely different from what I had hoped for, I certainly don't regret my board year. 
I hope that for many, COVID-19 is not an obstacle to choose for a board year. You still experience plenty of fun things and work with people with whom you build friendships for life. 
If you are interested in a board year, but still have a few questions? Sign up now for our Board Information Session. Of course, you can always send me a personal message!