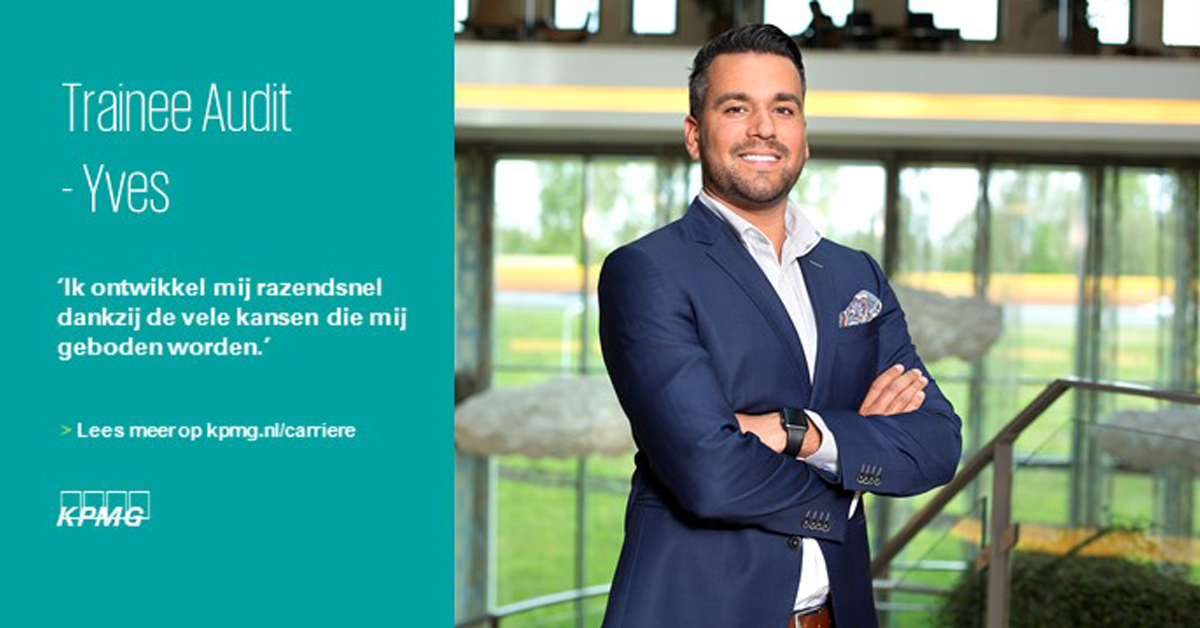 My name is Yves van Marle, 27 years old. During my study business economics, I gained practical experience from an internship at a healthcare institution and an internship at an accounting firm. After finishing my higher professional education, I started my Master Accounting and Control at the University of Amsterdam. I finished this study in July 2015 after a thesis internship at KPMG. After finishing my Master, I made a six month world trip.
When I came back, I became a trainee with KPMG and I started with my post-master Accountancy at the University of Amsterdam. Developing broad professional skills and personal growth are key points during this process. By working at KPMG and following my post-master, I want to develop myself into a starting professional.
Why KPMG?
During my Master, I visited several events like inhousedays, dinners and workshops. I really enjoyed the events at KPMG, mostly because I had a good connection with employees from KPMG. Furthermore, it was really clear to me which departments and activities there are at KPMG. So, based on my feeling and prior good experiences, I decided to apply for a job at KPMG.
"Try to attend as many events as possible during your study and get a good picture of the culture at a company."
My experience at KPMG
At KMPG, I get the opportunity to develop myself from a student to a professional in a short time span. This is, among others, due to the dynamic work and the amount of time I spend on customer contact. Moreover, these contacts are with a large variety of customers. You grow quickly in your work and job level, ensuring that you continue to develop yourself as a person and as a professional.
In addition to working, KPMG also organizes all kinds of informal events to get to know your colleagues better. So, a ski trip this year was one of these activities! KPMG employees under the age of 31 automatically become members of 'Connect', a platform for youngsters. 'Connect' organizes various activities throughout the year, such as breakfast sessions, lectures, pub quizzes and golf clinics. In these activities, focus is on social, academic and personal development.
My success of the past year
This year, I participated in a first year inspection of a large listed company. There were a few strict deadlines. This was hard, but together with my team we put muscle in to it and completed the assignment on time. The fact that we did this together, gave me a very satisfied feeling! Through this assignment, I also learned how to deal with deadlines while also ensuring the interests of the customer.
I would like to tell you this
Try to attend as many events as possible during your study and get a good picture of the culture at a company. I wrote my Master's thesis at KPMG and I definitely recommend to do this. This gives you a unique opportunity to get a view behind the scenes of a company for a couple of months. In addition, it is also a great way to establish your network. This will certainly help you in making choices for your future career!