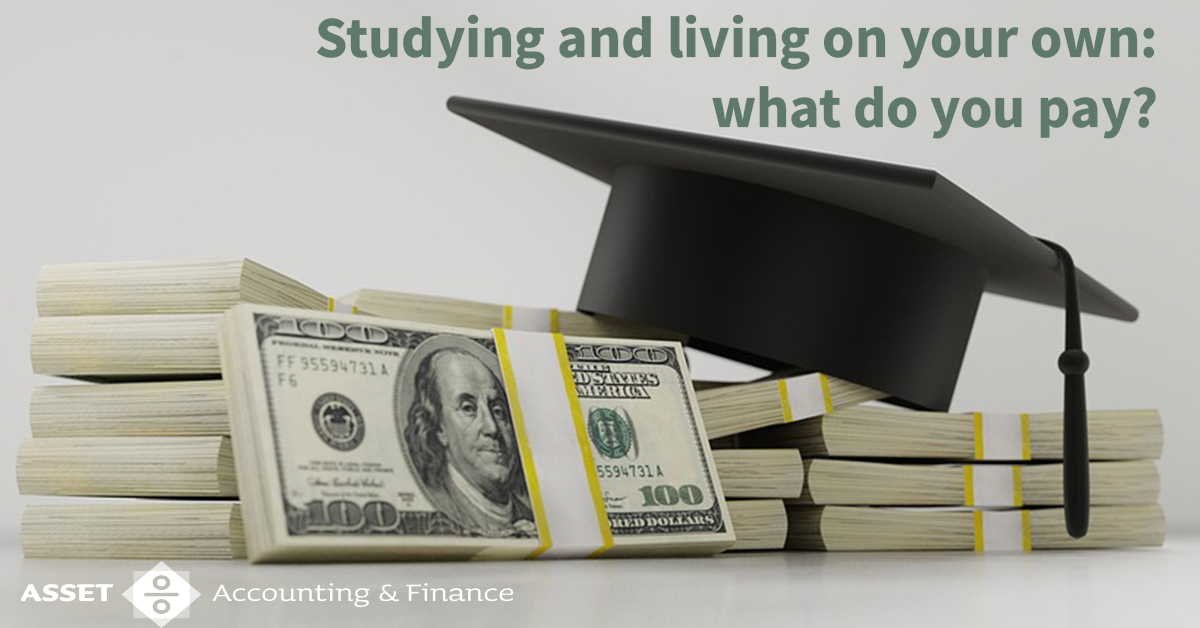 Everyone knows that studying is expensive and that living on your own is making this even more costly. Do you know how much your student life costs or will cost you? Monthly expenses of students living away from home are approximately €1.229. Sounds like a lot of money? In this article, we will provide you with an indication of the various expenses related to the student life and how you can save money on certain expenses.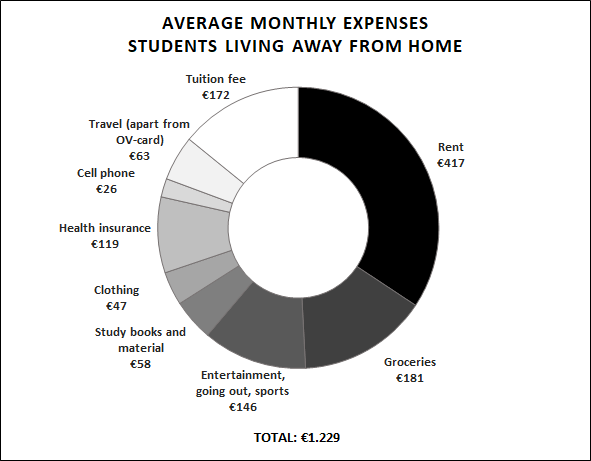 [Based on Nibud data]
The average monthly expenses of students living on their own in the Netherlands are displayed in the overview above. Some of the expenses are fixed costs, like tuition fee (€2.060 for the academic year 2018/2019), rent and health insurance. Students are eligible to get healthcare allowance (€99), which lowers the health care insurance expenses. Besides, you will need to make some one-time expenses, such as furniture (+€100-1.000), agency costs and a deposit. Agency costs/deposit are usually one month's rent. It also recommended as a tenant to have a contents insurance, which covers the possessions in your home against the risk of burglary, fire and water damage.
Although €1.229 is a lot of money, most of the expenses are variable costs, so you can easily save money on these. For example, you can save on your grocery expenses by eating together with other students. The app WieBetaaltWat will be your biggest friend to split these expenses, because this app easily shows you how much money everyone owes each other. The app Too Good To Go is also a useful app if you want to buy redundant food for a low price. Furthermore, making a shopping list prevents you from making impulsive snack purchases at the supermarket.
Most of the study books can be found online for a low price, but it is often possible to completely replace your study books with (digital) summaries. This can save you hundreds of euros and many hours of reading time. If you decide to buy study books yourself, you can write your own summaries and sell them to Asset. Lastly, keep in mind the special student discounts, for instance offered by Knaek or Surfspot.
The monthly rent is the largest expense for students living on their own. The average rent has increased significantly last year, namely with 4.7% (source: Kamernet). How can this increase be explained? Despite a growing number of student housing offers, in most student cities there is not enough student housing to satisfy the increasing demand. In addition, a lot of international students come to the Netherlands to study. All of these international students need housing, which results in increasing rent. Besides that, many students stay longer in their rooms after graduating due to a tight housing market. In other words, it is getting more difficult for new students to find housing. Tip: are you looking for student housing? Check Facebook pages like 'Woonruimte aangeboden/gezocht Tilburg'. New rooms are posted on this page daily!
"This initial plan would have led to a student debt of some thousands of euros extra for many students."
If we look at our own student city Tilburg, we should be happy with the relatively low rents for housing. Only in Wageningen and Enschede students are paying less. Nevertheless, rents have also increased in Tilburg last year, on average from €308 to €321. This is still low compared to an average rental price of €571 in Amsterdam. Do you think, however, that you are paying too much for your housing, or do you want to know what you are supposed to pay? On the internet there are some handy tools which can calculate this for you.
Daily groceries, but also study books and the hairdresser have become more expensive since January due to the increased VAT rate. This should be compensated with a rate reduction in income taxation, so all people would benefit from the economic prosperity. However, it is likely that students will not benefit from this plan since most students only have a side job or student loan.  
The tuition fee for the academic year 2019-2020 has been set at €2.083. This amount increases with the consumer price index each year. The increased VAT rate and higher rental prices will likely result in an increase in the consumer price index, which will lead to an increase in tuition fees. Positive news is that the proposal for increasing interest rates on student loans is rejected. This initial plan would have led to a student debt of some thousands of euros extra for many students. Fortunately, students are saved for now. However, the question arises how long this will last.
 Altogether, studying has become more expensive, in particular for students living on their own. The current loan system and political influences will likely strengthen this trend in the near future, but we encourage students to enjoy their student life. And if needed, students can make use of student loans provided by the government, because we believe it will be worth it. More reasons for borrowing money as a student can be found in the column written by Tim about student loans provided by the government.