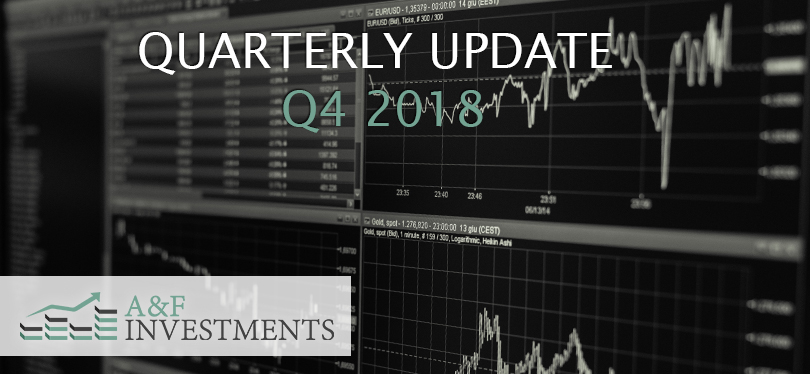 In 2017, the volatility was at a historic low. In 2018, the volatility returned and the markets closed low after a bad fourth quarter. A&F Investments still held a large cash position and outperformed the market because of it. Where all developed markets closed with a loss of more than 10%, A&F Investments closed the year with a return of -5.79%.
Disappointment with Trump's presidency was a cause for the lacklustre results in 2018. In 2017, investors were pleased with the (announced) tax cuts. In 2018 the growth decreased and the trade war caused investors to reconsider. As icing on the failed cake, Trump failed to get his plans for the border wall through congress. This turned out to lead to the longest shutdown in US history.
Europe hasn't performed either. In Italy, the government budget was rejected by the European Union and the country ended up in a recession. Growth in the rest of Europe stagnated. The Brexit negotiations led to nothing. The continent is preparing for a no-deal Brexit. Theresa May is in a bad spot with a divided party and with even worse bargaining power with the EU. Before March 29 this year, the deal has to be inked, otherwise the troubles go on until January 2021.
"We will still be on guard for what happens in the US and UK."
As a reaction on the then current events, we closed our call-option on Flow Traders. We swapped the position for shares in Flow Traders, as we are positive about the market they perform in and because we think the volatility (and volume) have not peaked yet. We also bought a position in Kion, to have exposure to the growing E-commerce market, as Kion is a warehouse automatization company. Lastly, we bought a position in oil after the commodity dropped with more than 40%.
With the correction (seemingly) behind us, A&F Investments is preparing itself for a normal year in the markets. Therefore we are reducing our cash position. We will still be on guard for what happens in the US and UK. Besides our portfolio, we can look back at a successful guest lecture by IBS Capital and are excited for the upcoming guest lecture from Blacktrace. Lastly we had a nice evening with drinks and the group is back at full capacity!