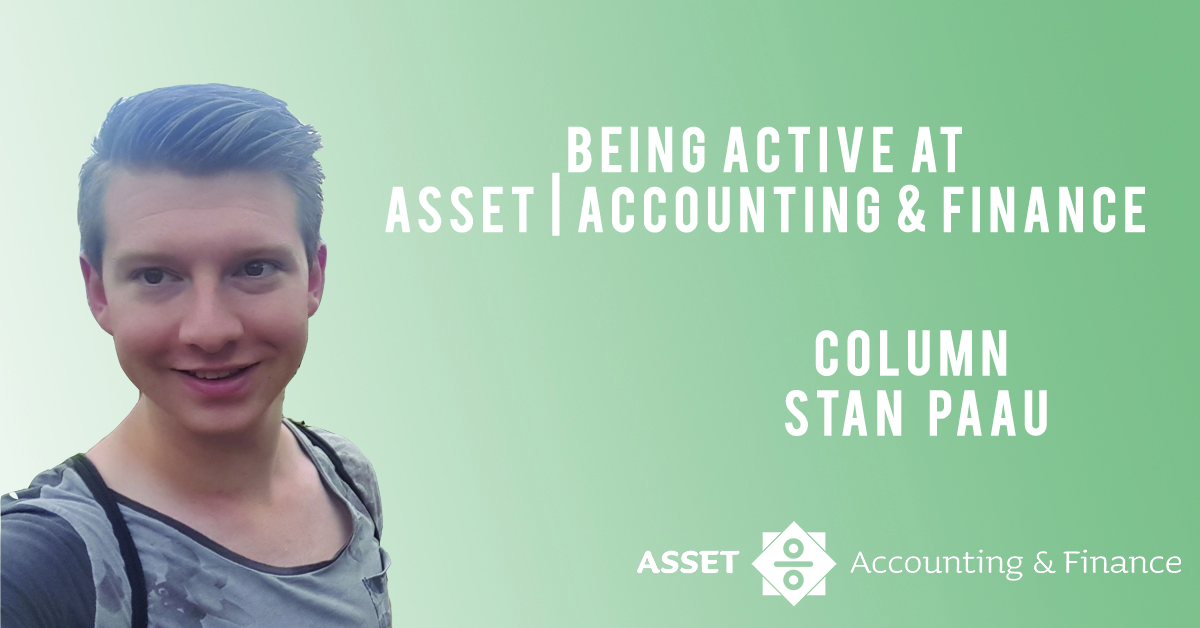 My name is Stan Paau, and I am 21 years old. Recently, I obtained my BSc in Business Economics, and have been a member of Asset | Accounting & Finance for two years now. In this column I will explain what it is like to be an active member of Asset Accounting & Finance.
In June 2016 I started with the Investments Committee. I felt drawn to this committee, as it puts the theory of the subjects Finance 1 & 2 into practice. A&F Investments is an investing club where about 25 members manage a portfolio. As analyst of this committee you pitch your ideas to invest in funds, in order to gain experience in investing and to learn about investing strategies and valuing companies. After being active for two years I am now fortunate enough to hold the position of External Affairs officer in the board of the committee. While this sounds fairly specific, I quickly started getting involved in the activities that Asset | Accounting & Finance organizes. The informal activities grant you the opportunities to get to know a fun and diverse group of people who share the same interests as you. During a casual drink or formal activity, an active members day where we all do something fun together, or during a cantus where the association is present, the mood is always good, even if you know few people! Through committee members or the board, you start getting to know people quickly. Asset | Accounting & Finance is an open organization: everyone is welcomed with open arms on the casual drinking nights and cases of hierarchy, prominence or hazing do not take place.
The combination of a fun, informal group and building your future, is a combination that creates value for every active member!"
Obviously, partying is not the only thing we do in this association. Asset | Accounting & Finance grants you various opportunities to become active next to your study, and to become familiar with companies that might become your next employer. Examples of such activities are the Accounting Expedition, the Financial Business Dinner and the FinanceDay. As a result of attending such activities, you get an insight in the fields of the companies are operating in, and whether it interests you or not. And the companies are definitely interested in you as well! Companies such as Duff & Phelps, Rabobank, First Dutch or Deloitte, are waiting for you. In addition, it is possible to obtain an internship or starting job as a result of the foundation you build by attending these events. Even more fun is to organize an event like this. Next to being External Affairs officer at Investments, I am active as Vice- Chairman of the Finance Expedition Committee. This committee organizes a three-day event in Amsterdam, which deals with the pillars of Finance: Risk Management, Corporate Finance and Asset Management. Two companies a day are visited by students selected by the companies based on their CV. Even though this might sound specific and formal as well, the vibe within the committee and during the meetings is informal. We discuss the important affairs seriously but like to enjoy a drink together and don't say no to a committee-event.
The responsibilities you have as an active member vary, depending on the committee you join. However, in each committee it is important that you complete your tasks as discussed, and that you actively participate in delivering quality during the activities. This way you can make a difference in a fun way by doing something enjoyable, fascinating or interesting for yourself, fellow students and other members of Asset | Accounting & Finance. In the two years that I have been member of A&F, I have learned that it has been an excellent decision to join this association. It opens doors to the student life with a fun group of people while you are doing something that interests you. In addition, I have learned how to work together with other people, and how to put your knowledge into practice.
In short, on the one hand I see Asset | Accounting & Finance as an awesome group of students who want to make the most out of their time at university by becoming active and go on a journey together. On the other hand, I see Asset | Accounting & Finance as a huge first step in getting in touch with the countless employers that are waiting for you. The combination of a fun, informal group and building your future, is a combination that creates value for every active member!
Are you interested in becoming active at Asset | Accounting & Finance? Have a look at the website or send a mail to vice-chairman@asset-accountingfinance.nl!