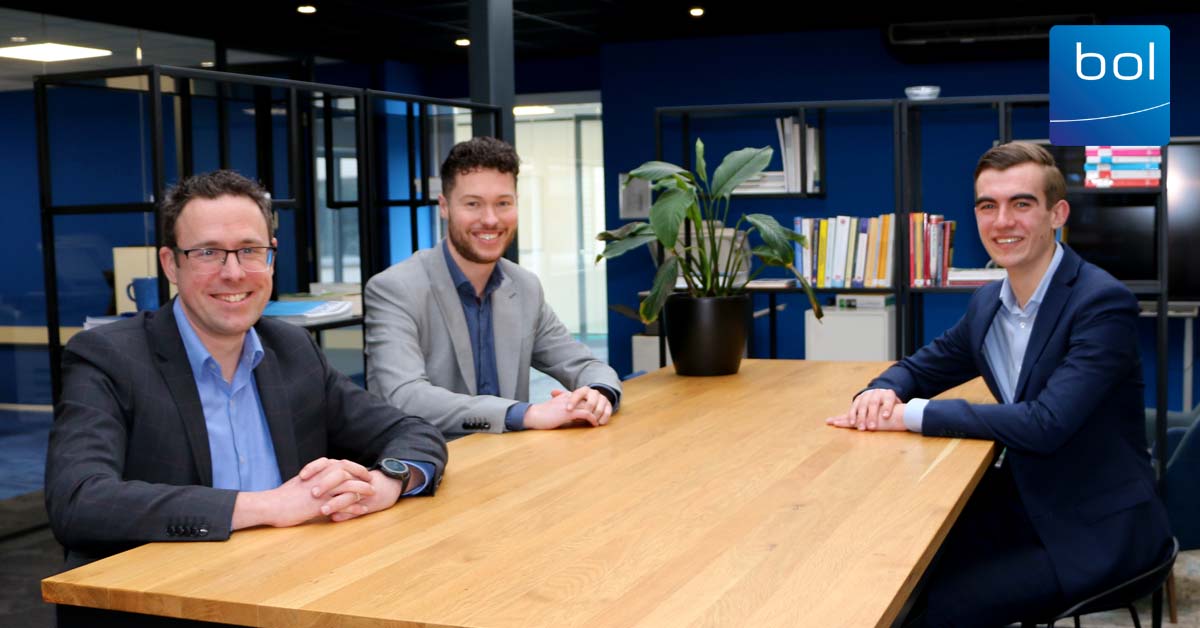 "At Bol Advisors, you determine your own development path."
The world of Assurance is fascinating. At least, that's the conclusion we draw after talking to three specialists from Bol Advisors. Where does their passion come from? They mainly want to make a difference. Through control, guidance, advice and the use of the latest IT tools, they assist entrepreneurs.
The Assurance profession has many faces, as we find out when we talk to Thijs Peeters (IT auditor), Daan Reijnen (control manager) and Robin Vreeswijk (junior assistant accountant). We asked the three about their experiences, personal motivation and ambition.
Daan, can you tell us something about your job?
"In a nutshell: as an audit supervisor, I provide entrepreneurs with assurance about the figures included in their annual accounts. Think of checking the balance sheet and profit and loss account, the AO-IB, tax matters, sparring with the customer, you name it. In other words, it concerns company-wide audit activities. It is technical work, but very enjoyable.
Why does that work appeal to you so much?
"Because you make a scan of an entire company, as it were. With your findings, the client closes the financial year, but much more importantly, you create a glimpse of the future. To do that, you have to know your client, with all its processes and systems. You also need to be able to assess risks. Based on all that, we determine the next step."
Thijs, you are active as an IT auditor. What does that entail?
"We see that business processes are increasingly digitized. Where you used to take a folder of invoices out of the cabinet and check whether they were signed, nowadays you dive into the systems. It is my job to assess whether these digital processes are correct, have been set up properly and lead to the right output."
Can you give an example of that? 
"I don't necessarily look at the accuracy of the figures themselves; I am much more concerned with the digital processes behind the figures. I open the bonnet, as it were, and investigate. Which IT systems are being used? Who has which user rights? Are the authorisations applied correctly? In other words: I look into the digital black box of a company."
Why is that important?
"Through our work, we help clients become more mature when it comes to managing IT risks. This has a lot of overlap with topics such as cyber security, which allows us to advise our clients in that area as well. This is important for the continuity and investment power of the company. Think, for example, of stakeholders such as banks or investors. Before they invest, they want to know for sure that the IT infrastructure has been set up properly and is operating effectively."
"Through our work, we help customers become more mature  when it comes to managing IT risk."
Robin, you most recently joined Bol Advisors. What appeals to you?
"I like the fact that I can develop in all directions. At secondary school, I was mainly interested in Management & Organisation and Economics; I like working with figures. At the same time, it is very interesting to see which digital route financial documents take. That means you go further than checking the output; you also explicitly look at what happened beforehand.
Is that a field you aspire to?
"Absolutely! I started out as an assistant accountant in the Assurance department, but I would definitely like a role as an IT auditor. I have also indicated that I do so; I get all the space to develop myself in this role. I'm already involved in various IT projects, which is super interesting."
To what extent are accountancy and IT auditing complementary?
Thijs: "We undeniably need each other. Where the accountant provides assurance about annual accounts, the IT auditor does that in the field of the IT environment. What is the quality of the data? How does a company manage possible risks? How do they deal with things like password management or backup storage? You can imagine that all those things constantly influence each other."
Daan: "I always include the IT audits in the advisory meetings I have with the customer. That's logical, because in order to make a good risk analysis, you also need to know how an organisation is structured in terms of IT."
Thijs, you have developed yourself into an IT auditor. Was there enough space to do so?
"Before this, I worked for many years as a 'traditional' auditor. A few years ago I indicated that I wanted to discover the IT audit side and fortunately the company welcomed that. I have now been active as an IT auditor for four years and I am constantly given room to further develop myself."
Daan, do you see the same development opportunities?
Certainly. If you want to develop yourself at Bol, there are plenty of opportunities; our company sees broadening knowledge as a benefit. And if the company doesn't offer a course, there are almost always opportunities to take it elsewhere. Although I still enjoy auditing the annual accounts, I really enjoy taking the two-day IT course Thijs gives every year. You learn from it in terms of content, and you are confirmed in the knowledge that there are IT specialists you can call on if necessary. That helps me focus on my own work."
"If you want to develop at Bol Advisors, then there are more than enough opportunities."
Finally, why is your industry worth exploring? 
Robin: "The great thing about our profession is that you don't look in the kitchen of one, but of several companies. As a result, you learn a lot about the companies themselves, but also about other companies in the same industry and from different industries. In addition, as accountants we fulfill a kind of gatekeeper role. We have a responsibility that others have to be able to rely on. I still find that playing field very interesting."
"The great thing about our profession is that you don't just look at one, but at several companies"
Daan and Thijs, do you agree with Robin?
Daan: "I agree. I also think working with colleagues is an advantage. We have an enthusiastic team and accountancy is one of the youngest professions. In addition, we just do very varied work: we dive into the figures, but we are also advisors and sparring partners for entrepreneurs."
Thijs: "The world is changing and our industry is developing along with it. It is therefore logical that you yourself do not stand still either. If you like to grow along with your profession and with the companies around you, then this is the best profession there is."