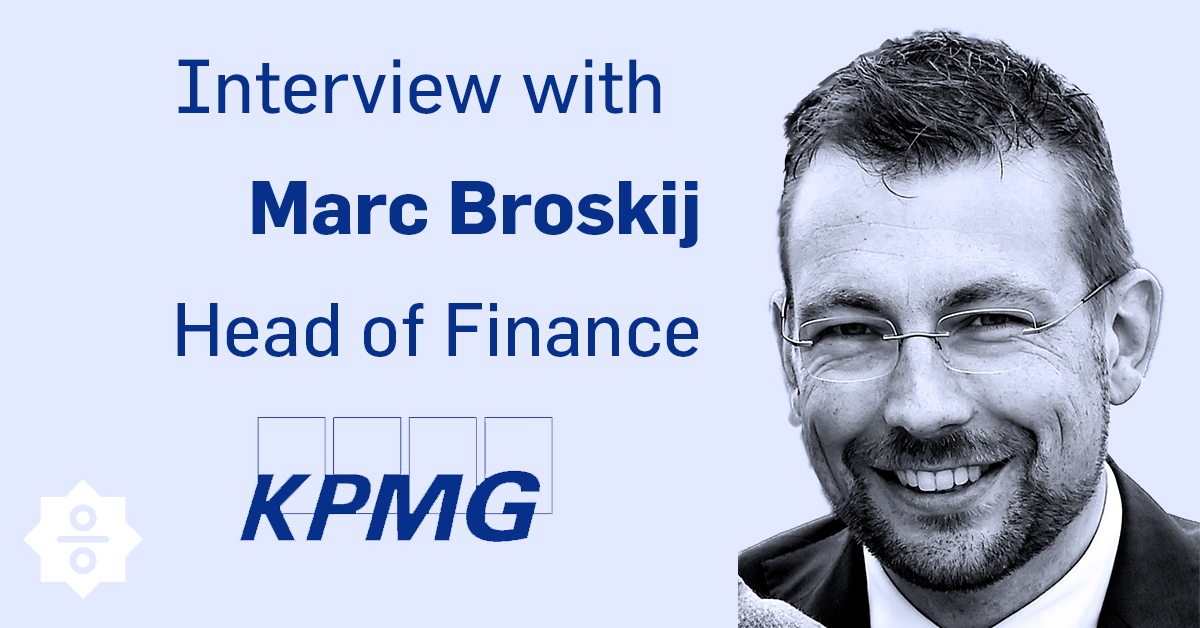 For the Dutch version, click here
He was recently appointed Head of Finance at one of the Big Four. In this interview Marc Broskij talks about his career and provides more insight into his work as Head of Finance. In addition, Broskij casts his eye on possible changes in the working field as a result of COVID-19.
Could you tell us something about your career?
In 1994 my student days started at the University of Groningen, where I studied Economics, specializing in Accountancy. At the time, there was no explicit distinction between a bachelor's and a master's programme. After 4 years you obtained the title of doctoral student (drs.), nowadays better known as Master of Science (MSc.). I always had the ambition to work in the 'Randstad' after my studies. In 1999, after a tour with my study association visiting all the accountancy firms, this ambition was fulfilled and I joined KPMG. I combined my work at KPMG with the postgraduate RA (chartered accountant) course again at the University of Groningen. In addition to working in accountancy, I also lectured Financial Auditing at the post-master's programme at the Vrije Universiteit Amsterdam (VU). From 2015, I worked at Blokker Holding in various financial roles for four years. With hindsight, this turned out to be a temporary outing, as I rejoined KPMG as of 6 August of last year, now as Head of Finance.
A common theme in my career is that I enjoy challenging work with a certain level of complexity. This way work gets boring less easily. In addition, I thrive in a dynamic and close-knit team. 
How did you experience the transition from studying to working?
In the beginning it really took some adjusting. The freedom you have as a student in the final year of your studies and the structure that is imposed on you while working was the biggest transition for me. I have never experienced this transition as cumbersome, but I certainly had to get used to it. In addition, translating theory into practice also took some time. However, KPMG's Training on the Job (TOJ) process facilitated this transition very well. During TOJ an experienced team member provides coaching and teaches you the tricks of the trade.
 "A common theme in my career is that I enjoy challenging work with a certain level of complexity."
What does your work as Head of Finance look like?
My job is actually twofold. As Head of Finance I am responsible for (in the broadest sense) everything that has to do with numbers: ranging from initial recording of transactions, to internal control over processes to business control and financial reporting (internal and external). My role also includes the insurance portfolio, financing and cash flow management. The second part of my job requires some more explaining. KPMG has two business units: assurance and advisory. Both business units have a management team. In addition to Head of Finance, I am CFO/COO for the Assurance unit. As COO I am responsible for the functioning of the daily primary processes, so-called operations management. 
What changes will there be at KPMG in the future as a result of COVID-19?
Due to COVID-19, our people also started to work from their home. Once all employee work from home, it is quite tensive whether all our IT systems would hold, which they fortunately did. What we also found out is that with all the available means of (online) communication remote working works quite well. Our work also involves a lot of travelling throughout the Netherlands (but also internationally) visiting our clients. We note that our clients are also opening up to remote working. I therefore expect that there will definitely be an impact on how we organise our work in the future: no longer requiring people to always work from the office or at the client's premises. Even though this will save time, in my opinion it will continue to be important to stay in physical contact with your team and our clients.
"You always have to rely on your own strength, and that's why we don't shy away from the competition. "
Who are KPMG's competitors?
When looking at our competitors, you need to divide KPMG into two services: assurance and advisory. Within assurance we serve regulated and large international clients where we face competition from the Big Four, BDO and Mazars. For our SME clients we also face competition from other SME audit firms. If, on the other hand, we look at our Advisory practice, there is a diverse group of competitors depending on the type of service we provide. When supporting mergers and acquisitions, we face different competitors than for a Strategy and Operations engagement or for our Technology services. However, KPMG is a very healthy and, in my opinion, unique company. You always have to rely on your own strength, and that's why we don't shy away from the competition.
Do you have another special experience that you would like to share with us?
In 2009 as a senior manager I had the opportunity to work for KPMG in Calgary, Canada. The period in Calgary has been a fantastic experience both professionally and privately. First of all, it was interesting and fun to get acquainted with a different culture and working environment. Secondly, you learn a lot when you have to start all over again somewhere new. Also privately and with my family we have really enjoyed this time as we met new people, learned new habits/customs and a second language. After two years in Canada, there were some great opportunities waiting in the Netherlands, which – in addition to being back with our family – was one of the reasons to return. 
Lastly, do you have a golden tip for the current generation of students?
After completing your studies, look for work that will make you happy. This search might well go with ups-and-downs, but your work will become an environment where you will spend a lot of time. So don't think too easily about that search. Your first job doesn't have to be what you will be doing for the rest of your life, but it does have to fit in with your attention and interests. And those can change over time. Finally, it's good to look ahead, but don't forget to enjoy the student life either.