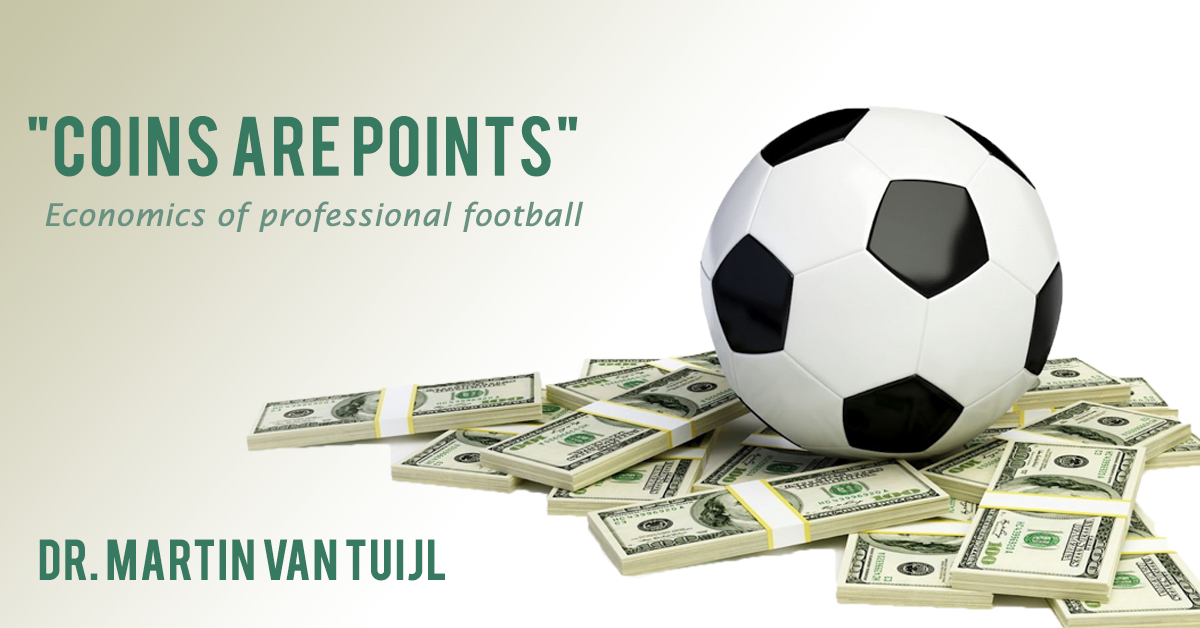 The economics of professional football is a rather simple form of economics: "Coins generate points." In general, clubs with a relatively large budget will outperform clubs with a relatively low budget. This also holds at the national level. The so-called classical top-three, viz. Ajax, Feyenoord and PSV are the only serious title candidates. During the last decade, two proverbial exceptions to this rule have occurred.
First, AZ won the Dutch title in 2009, mainly based on the large budget provided by sponsor annex sugar-daddy Dirk Scheringa. After the collapse of the business empire of Scheringa, AZ had to make substantial downward adjustments to the budget. During that period, the management of the club performed outstandingly, so that they have reached a stable position in the sub-top of Dutch football. Second, FC Twente captured the Dutch title in 2010. Certainly after this championship victory, the management of the club took unacceptable financial risks. Currently, FC Twente has become a serious candidate for relegation. Former chairman Joop Munsterman was always 'Working On a Dream' (Bruce Springsteen), but this dream has now turned into a nightmare. One lesson can be learnt from these two cases: sub-top clubs should not attempt to join the top teams in Dutch professional football for a longer period of time. Both Ajax and Feyenoord have a large national base of fans, while the supporters of PSV, though more regionally concentrated, are very loyal. Moreover, these three clubs are strongly embedded in business life.
"In sports, the success of firms requires the presence of competitors, which makes sports different from regular business life."
In 1982, the commercialisation of Dutch football finally took off, when shirt-sponsoring was introduced. One ought to realize, that Feyenoord have won only four Dutch titles in 35 seasons ever since. Ajax have won 13 Dutch titles since 1982, while PSV have even captured the Dutch championship 16 times. Now, one should keep in mind that the last eleven titles in the amateur era went to eleven different clubs: ADO (1943), De Volewijckers (1944), FC Haarlem (1946), Ajax (1947), BVV (1948), SVV (1949), Limburgia (1950), PSV (1951), Willem II (1952), RCH (1953) and EVV Eindhoven (1954). The first five titles in the professional era also went to five different clubs: Willem II (1955), Rapid JC (a predecessor to Roda JC, 1956), Ajax (1957), DOS (a predecessor to FC Utrecht; 1958) and Sparta Rotterdam (1959). Five title- holders in five years in Dutch professional football: that will probably never happen again, although the period 2008−2012 came close (PSV, AZ, FC Twente, Ajax). If only Feyenoord had been aware of their own strength in the 2011–2012 season!
In 1960, a play-off between Ajax and Feyenoord decided the 'Eredivisie'.  By the way, Ajax beat the arch-rivals 5–1, with three goals from Wim Bleijenberg, a former Dutch international centre forward, but then only an Ajax-reserve. In the regular league, he had scored just one goal in four matches. After that, only DWS (1964), AZ (1981 and 2009) and FC Twente (2010) have won the league, apart from the so-called classical top-three. Thus, within two decades, football became rather predictable and far less competitive. In the Netherlands, we have grown used to dominance of three clubs. It does not seem to diminish the entertainment value of the 'Eredivisie'. Except for some clubs (FC Groningen, Roda JC en Vitesse), the attendances are still quite satisfactory, even if the stadium of Excelsior is rather small. Television audiences are also fairly large, just like attention in the media.
In some other countries, the situation seems to become even worse, at least from the competitive perspective. In Germany, every point that FC Bayern München loses is a real sensation. The club from Bavaria has now won the German title six times in a row. The same holds for France, where the large resources of Paris Saint-Germain FC have been too much for the rivals since 2013, except tor AS Monaco, not a poor club itself, in 2017. In Italy, Juventus have dominated the Serie A since 2012.  Will this become a problem? A central hypothesis in sports economics is the so-called Louis-Schmeling paradox (Walter Neale, "The Peculiar Economics of Professional Sports", Quarterly Journal of Economics, 1964). In sports, the success of firms requires the presence of competitors, which makes sports different from regular business life. According to my view, Bayern München, Juventus and Paris-Saint Germain, still face competition, though not at the national level. Their main goal is victory in the UEFA Champions League. There, they still face competition from the Spanish top-three (Atletico Madrid, FC Barcelona and Real Madrid) and the English top teams, like Arsenal, Chelsea, Manchester City, Manchester United, Liverpool and Tottenham Hotspur. Thus, competitors are still present with regard to their real target, i.e triumphing in Europe. And if Real Madrid would win the Champions League five times in a row? They already did this once (1956 – 1960), and professional football has still survived.