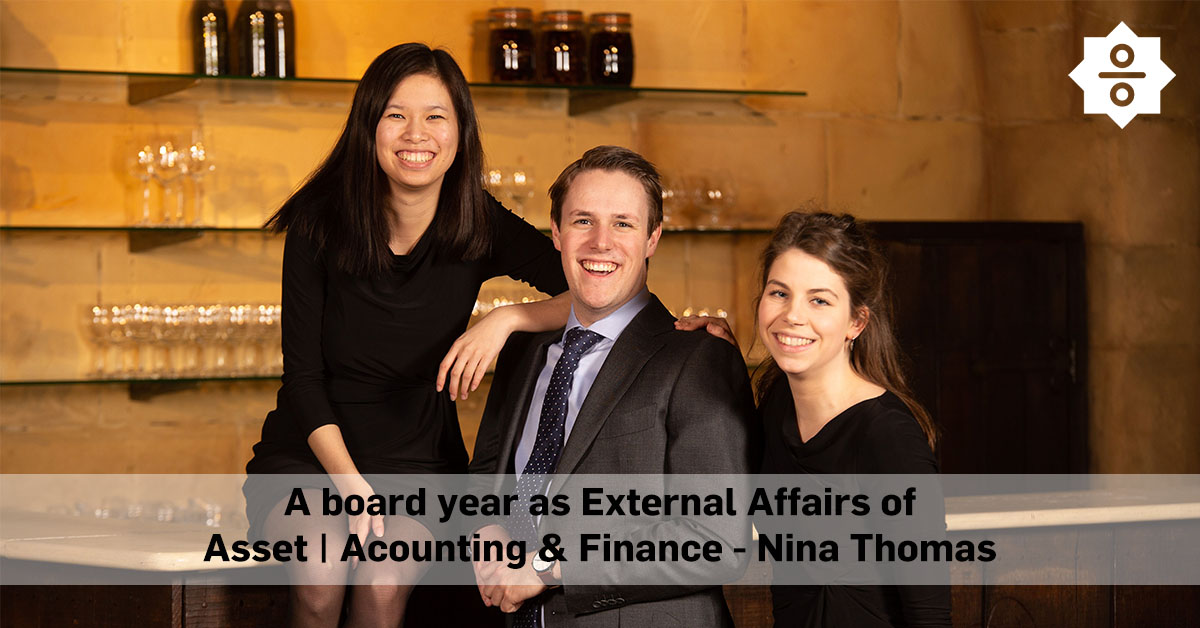 For the Dutch version, click here
As External Affairs, Nina is responsible for the contact with current and future partners of Asset | Accounting & Finance. In addition, she coordinates the Accountancy Cycle, Accounting Expedition and Orientation committee. In this article, Nina explains her function and her experience as an External Affairs of Asset | Accounting & Finance. 
Why did you choose for a board year at Asset | Accounting & Finance?
As a committee member of Asset | Marketing, I organized a fantastic trip to Malaysia during my second year of my bachelor. However, I did not think about a board year back then; I wanted to go on exchange and finish my bachelor's in Business Economics. Only during my exchange in Sydney, I began to think more seriously about it. I'm not sure whether the reason was my carefree student life which suited me well or my personal development growth, but a board sounded more and more attractive. This feeling became stronger during my time as a member of the Financial Business Dinner committee of Asset | Accounting & Finance (A&F), which felt very comfortable. Another reason which contributed to my choice was the difficulty of choosing the right master. 
However, as someone who is known for doubting a lot, it is not a surprise that I was in doubt about this decision as well. After several conversations, my doubts turned out to be unnecessary which led me to the well-considered decision to apply. The only decision left for me was which function within the board I wanted to fill. Firstly, I was thinking about becoming Treasurer of the board, as I had an affinity with numbers and making budgets. However, a board year is meant to step out of your comfort zone. Therefore, I decided to apply for the position of External Affairs (External). 
What does your year look like and how do you like it?
The year began with a full agenda. During the day, I visited our partners to discuss our cooperation. During the evenings, I was busy with Announcements or dates with other boards and in between, conveyance and policy sessions were planned. I got to know the organizations and recruiters, which improved our collaboration during the year as well as my perspective on different sectors. 
The Financial Business Dinner took place at the end of September, and soon the events which I coordinated as part of my board position took place. This resulted in greater a responsibility, but also a feeling of being proud of the committees as well. The peak of 'my' events happened in February/March. As summer External, I was responsible for the organization of the Finance Day, Master Experience Days and Accounting Expedition. These events all took place within the period of one month, which tested my time management and list of priorities. It is, therefore, gratifying to see that students appreciate our events and use them to build their network. In the end, that is what our association stands for; connecting students with their potential employer. 
Because there is always something to do, time flies by. Beforehand, I was wondering how I could be busy for seven hours a day; right now, I ask myself how it could be that the day flew by so quickly. Even weeks flew by quickly, and I feel like we have just begun the board year. I think it is difficult to summarize my experiences within 1000 words or to give just one answer. 'Good' is not sufficient, as a board year is something you have to experience. Therefore, I am very happy with my choice. And my doubts… those have been replaced by doubts regarding the choice of a menu (it is still a learning process). 
What are your tasks as External Affairs?
As External, you are the first contact for companies. You work together closely with the other External in order to provide companies in their needs. The conversations during the summer form the basis and these are supplemented with new partners. Via either physical appointments or appointments by phone, you determine whether there exists a match between what companies search for and what A&F offers. Sometimes, you have to say 'no' and there will be no match. This can change, therefore maintaining a good relation is essential. The same holds for existing partners, you want to keep those satisfied. You are building a network which could be important later on in your career. 
"Here, it does not really matter whether you are a quiet person in general or someone who prefers to step forward. As long as you are social and open-minded, it is alright."
It is great that my position within the board emphasizes the importance of soft skills. Keeping contact with A&F partners improves your communication skills and it allows you to learn how to present yourself and A&F well. You will learn these skills quickly enough. Here, it does not really matter whether you are a quiet person in general or someone who prefers to step forward. As long as you are social and open-minded, it is alright. Also, you do not have to be a professional in small talks. Moreover, you should not be afraid to bring or receive less positive news. These could be tough conversations, and it is your task to resolve these in the right way. Solutions will differ, yet each situation requires flexibility and rationality. Although you will be the point of contact, fortunately, you are not alone. My skills regarding crisis management have clearly improved and I am proud when looking back at how I solved certain situations. 
What does your average day look like?
An 'average' day does not exist, yet there are recurring occasions such as committee or board meetings, keeping social media channels up to date or adding vacancies on Career Platform Tilburg. In addition, I spend quite some time keeping my mailbox up-to-date and making phone calls (or receiving voice mails). However, this is just a part of my activities, as there are many tasks which deserve attention in between. This is what makes every board position varied and versatile. 
Although there are many serious tasks, there is enough time left for fun, which makes a board year very attractive. We lunch together, discuss the weekend, or try to remember what happened during our drinks. In the evening, the fun goes on during our activities and drinks and it is great to see that our members are enjoying their time. 
Do you have any tips for your successor?
Take enough rest. There will be a lot of nice moments and it is tempting to take part in everything, yet plan moments for yourself as well. Some people prefer sports, I like to go for power naps. A short nap of about 20-60 minutes after conversations with A&F partners or just before a drink, gave me the boost to enjoy all experiences and impressions to the fullest. In addition, naps are way better than the coffee you can get at the E-building.  
If you would like to know more about my board year after reading this article, feel free to send an email to A&F so we can drink a cup of coffee during an online meeting! In addition, you can get to know more about the specific division of roles within the board via this link.