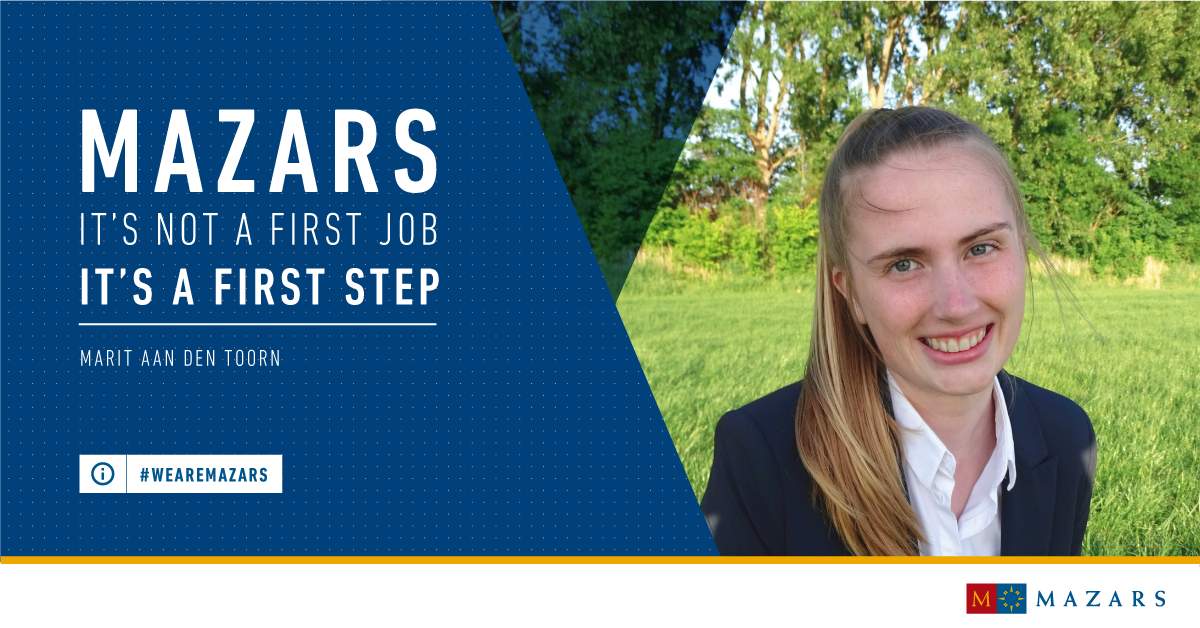 For the Dutch version, click here
First let me introduce myself…
My name is Marit aan den Toorn, I am 23 years old and live in a village near 's-Hertogenbosch. In 2018, I completed my bachelor's degree in Business Economics at Tilburg University. In January 2019, I started the master Accountancy. I have already completed the subjects of the master's, which means that I can now focus entirely on my thesis. In the meantime, I have been working for a few months as a thesis intern at the audit practice of Mazars Eindhoven.
More about Mazars
Mazars has 11 branches throughout the Netherlands. The audit practice of the Eindhoven office works closely together with the audit practice of the Breda office and together they form Audit South. Audit South's client base is very diverse; Audit South audits listed companies, the Dutch large companies, SMEs, schools and non-profits. Within Audit South, we perform both (financial) audits as a whole, as well as audits as part of global group audits in which we work closely with Mazars partners abroad. We are both a group auditor and a component auditor.
Why did you choose Mazars?
Already during my bachelor's I attended various events to get to know different accounting firms better. I also did an internship at a Big 4 firm last year. After this internship, I continued looking at the possibilities within medium-sized offices. Working at a medium-sized office appeals to me, because you have a diverse client package with large and somewhat smaller clients. I also like working in a smaller team where you know all your colleagues. Through my LinkedIn network, I came into contact with someone who works at Mazars Eindhoven. During a coffee conversation at the office I got a good impression of Mazars. They showed interest in me, which made me feel right at home. Mazars also pays a lot of attention to personal development, which is something I find very important.
What is it like to write your thesis at Mazars?
It is very nice to be able to write my thesis at Mazars. A thesis internship gives you the opportunity to focus completely on your thesis during a number of days during the week. Together with other interns I work on my thesis, which is not only fun but also gives you more motivation. In addition, I quickly got to know colleagues and pick up some things that play a role at the audits. From day one, the guidance from Mazars is very good, even now that we have been working from home for more than two months. During my internship period, there are regular contact moments planned during which we discuss how my thesis is going and whether I run into anything. A colleague brought me into contact with a colleague from the Rotterdam office who is very involved in my thesis subject, Integrated Reporting. She was immediately enthusiastic and I was given the opportunity to talk with her about my subject. Mazars also offers me the opportunity to visit clients with other colleagues. This way I can discover whether working in audit practice suits me.
"At the moment, in a time when physical contact moments are not possible, fun digital Friday afternoon drinks and pub quizzes are being organized."
What is the atmosphere like at Mazars?
The atmosphere is really great. There is an informal and pleasant atmosphere. From day one, it felt very familiar at the office. I can go to anyone with questions and the barriers of communication are small. You really feel welcome as an intern at Mazars. Even now, in times of the corona crisis, Mazars shows commitment to all her colleagues. They regularly check whether you are still doing well. Every month Audit South organizes the Brabant Tuesday. As an intern I am also involved in this. Everyone from Audit South comes together on this day. On this day, current topics are discussed, internal training is given and mentor meetings take place. At the moment, in a time when physical contact moments are not possible, fun digital Friday afternoon drinks and pub quizzes are being organized.
My ambitions
From 1 September 2020 onwards, I will be working as an Assistant Accountant at Mazars Eindhoven. I am very much looking forward to this new challenge and I am sure I will learn a lot. After the summer, I will also start with the Post-Master Accountancy (PMA).
My advice to students
I want to advise current students to start orientating yourselves on the job market on time. Make time to participate in activities organized by, for example, Asset. This way you can see where you feel most at home, because that is the most important thing!
The Master's in Accountancy in Tilburg has changed as of September 2019. Fortunately, with the new master's you will have the opportunity to work on your Master File at an accountancy firm. I really recommend this! It is a unique opportunity to taste the atmosphere and get to know an office and the people who work there better.
Want to know more?
Are you interested in Mazars and would you like to know more about the possibilities? Please contact Martijn Jacobse by e-mail martijn.jacobse@mazars.nl or by phone 088 277 11 40. Of course, you can also send me a message via LinkedIn.